Clifton Campus
COVID-19 Update: Faculty and staff are available by email and phone. College campuses are not accessible except for approved appointments and labs. 
795 Main St.
Clifton, TN 38425
Campus Phone: 931.676.6966
Need Assistance? Check Our Campus Hotline
Our Clifton and Lawrence Campuses staff is here to help answer your questions and connect you to college resources. Our team can help answer application, advising, general troubleshooting questions, and more. Drop in to have your questions answered!
Tuesday, September 29, 8:30 a.m. - 4 p.m.
Tuesday, October 6, 8:30 a.m. - 4 p.m.
Hotline Link
Coronavirus Info
Read Columbia State's most recent response to COVID-19 as well as protocols in place for coming to campus.
Coronavirus
Fall 2020 Resources
Learn more about resources available for fall as well as campus protocols.
Fall Resources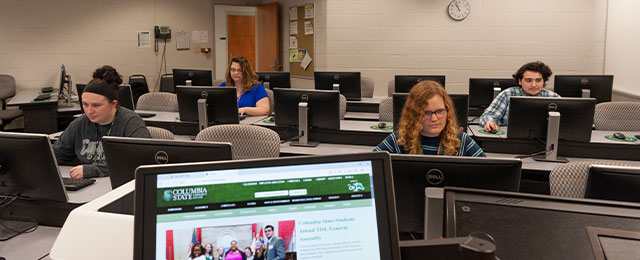 Computer Lab Access
Students will have limited access (by appointment only) to computers on each campus. Students must make appointments via EAB Navigate by selecting the campus.
Computer Lab Access
COVID-19 Protocols
To provide assistance and instructional support, Columbia State campuses will be open to students by appointment for computer access and other designated instructional services.
Campus Access
Helpful Links
Clifton Campus offers services to students