Graduation / Pinnings
Fall 2023 Health Sciences Pinning Ceremonies / Pinnings
Friday, Dec. 8 • 6 p.m. Nursing Pinning Ceremony
Webster Athletic Center, Gymnasium
S

ummer/Fall

2023 Commencement 

The graduating Summer/Fall 2023 class will be recognized for their accomplishments at Commencement on Saturday, December 9, 2023, which will be located in the Gymnasium of the Webster Athletic Center on the Columbia Campus. The ceremony honoring our graduates will be at the following time:

 

9:00 a.m. Commencement Ceremony

(Gymnasium opens for guests at 8:00 a.m.)

(Enter through the Wellness Center)

Associate of Applied Science (A.A.S.)

Associate of Arts (A.A.)

Associate of Science (A.S.)

Associate of Science in Teaching (A.S.T.)

 Technical Certificates
SEATING
There are no tickets required. All seating is in the bleachers with the exception of a few limited Special Seating (See below). Guests may seat themselves on a first-come, first-served basis. Due to safety hazards, baby strollers are discouraged. If a baby stroller is necessary, it must be left in the Wellness Center at your own risk.   
Once the Gymnasium reaches capacity, guests will be directed to the Ledbetter Auditorium, which is in the Frank G. Clement Building on the Columbia campus across from the Webster Athletic Center Gymnasium.  Guests may watch the ceremony broadcast live in our air-conditioned facility. Also, if your guest is heat sensitive, the Ledbetter Auditorium would be a better choice for them. 
CEREMONY LIVE STREAM
The Commencement Ceremony will be streamed live for family and friends who are unable to attend. As the date of commencement approaches, we will provide a link for family and friends in front of the Columbia State website.
Special Seating on the Gymnasium Floor for Guests with Disabilities
Limited disabled seating is available on the floor for individuals who cannot negotiate or have a disability that would prevent them from accessing the bleachers or stairs. Please Note: This seating area consists of folding chairs behind the graduates; therefore, visibility is somewhat limited.  Due to the limited number of seats at the floor level, only guests with special needs are allowed access.  We understand that this may cause families and guests to be separated during the ceremony and apologize for that inconvenience.  However, in order to accommodate the growing number of guests with special needs, we must ask that only those needing special seating utilize those seats.  For assistance with seating or other arrangements contact Graduation@columbiastate.edu or 931.540.2504. Guests needing special accommodations will need to arrive no later than 45 minutes to guarantee seating request, and to avoid the crowds in the parking lot and wellness center.
PHOTOGRAPHY
Please feel free to bring your cameras to take photos. The aisles need to remain clear at all times, especially during the processional and recessional. Graduates will be photographed as they cross the stage and shake hands with the President and once again after they exit the stage. Graduation photographs will be made available on our webpage.
Parking and Drop-Off Location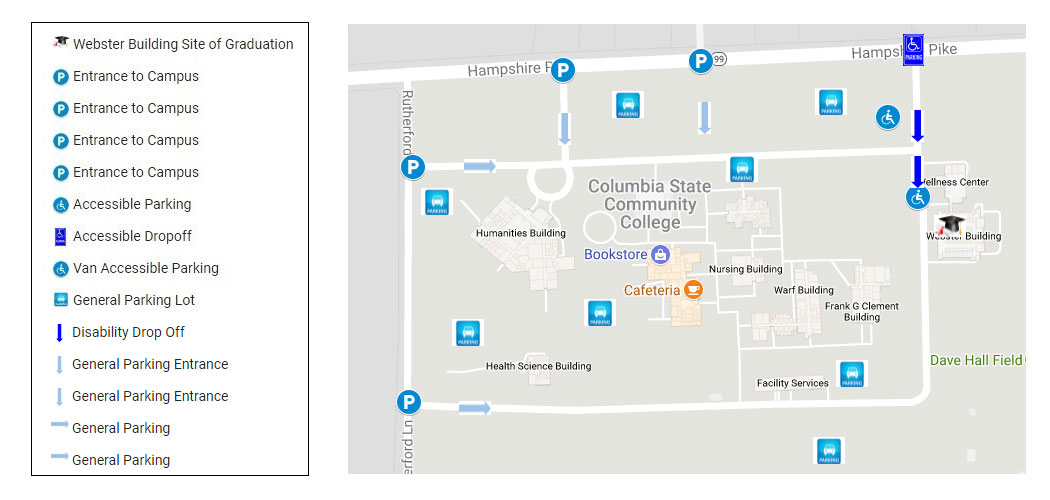 SAFETY AND SECURITY
Your safety is our first priority.  As you arrive, you will be greeted upon entry by security personnel who will conduct a speedy inspection of all bags, purses, and containers you may have with you. For safety and courtesy, none of the following items will be allowed inside or outside during the Commencement Ceremony.
Balloons, blow-up items, beach balls, inflatables
Glass containers, vases, or bottles
Silly string or aerosol cans of any kind
Illegal substances of any kind
Laser pens or pointers
Lawn chairs or portable seating
Alcohol of any kind
Fireworks or incendiary devices including party/confetti poppers
Offensive signs or banners or signs or banners over 8.5" X 11"
Weapons or other threatening objects of any kind (including spiked jewelry or chains)
Pets (other than service animals)
Water guns, spray bottles, or misters
Drones or any type of UAV
Remote control devices of any kind
Airsoft products
Facial masks of any type
Mace or pepper spray
Musical instruments
Any other item deemed unacceptable by Columbia State Security or Staff

Columbia State is smoke and tobacco-free at all five campuses. This policy prohibits the use of all forms of tobacco, including but not limited to cigarettes, cigars, pipes, chewing tobacco, snuff, e-cigarettes and other similar devices.
For further detailed information regarding commencement email graduation@columbiastate.edu or by calling
931.540.2504.