Password Reset Instructions
Process to reset your PVT Password when on or off campus:
Enter your entire @ColumbiaState.edu email address
Click Next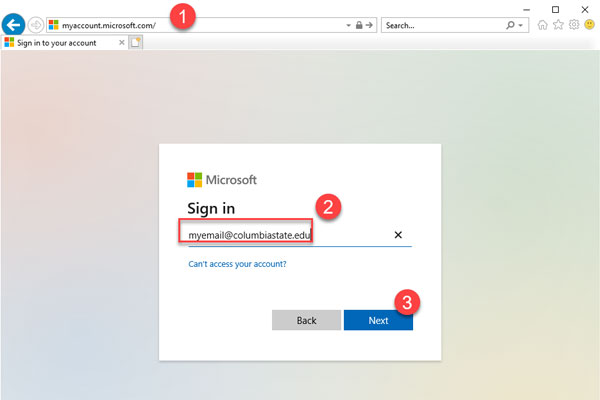 Enter your current PVT Password
Click Sign in
Skip to step 7 unless you see the More Information Required screen. At this screen, click Next to complete the Self-Service Password Reset (SSPR) Security Methods - Follow the screen instructions for each selected method. After completing the SSPR security methods, you may have to revisit https://myaccount.microsoft.com to continue with password reset. (Step 6 is completed one time only.)
 Click Password in the left menu or click Change Password on the Password Tile
Enter your current PVT Password
Enter a new password
Note:

MUST be at least 8 characters - can be more;
MUST contain at least 1 number - can use more;
MUST contain 1 capital letter - can use more
Cannot reuse a previous password

Enter new password again to confirm
Note: Allow 10 minutes for the new password to sync
IMPORTANT - After changing Password, update other devices and saved passwords to Prevent Account Locking:
REMEMBER TO UPDATE Mobile device passwords (phone, tablet, iPad, MacBook, etc.)
Clear and reset any saved password in browsers (Internet Explorer, Chrome, Firefox, Edge, etc.)
Update/remove saved passwords in Credential Manager (Windows PC)
If you need assistance, contact helpdesk@ColumbiaState.edu (from any email address) or call 931.540.2650. A voicemail message will also create a helpdesk request. Please include your NAME and PHONE Number in your email or voice message.
How to clear saved passwords in Chrome
If you use another browser, the steps will be similar but wording and menu will look different. The important thing is to choose the longest time range possible and to close the browser after clearing.
Open Chrome. look for the settings menu in the upper right corner (3 small dots, one on top of the other).
Click it and look about 3/4 of the way down the menu for "more tools."
Put your cursor on on "more tools" and a side menu comes up. Slide over to that menu and choose "clear browsing data."
After you click "clear browsing data" a box will open labeled "Clear browsing data" - click on the word ADVANCED and look under that for "time range."
"Time range" will have a drop-down menu next to it where you can choose the time period - choose "all time."
After that make sure to checkmark "Password and Other sign-in data" and then click "clear data" at the bottom right.
Once it is done clearing data, close Chrome.
Reopen and use Chrome.