Apr 19, 2021
|
Featured , Lawrence Campus
STHEC and Columbia State Celebrate Inaugural Ceremony of New Lawrence County Center
(Lawrenceburg, Tenn. – April 16, 2021) - - - The Southern Tennessee Higher Education Center and Columbia State Community College gathered Friday to celebrate the Inaugural Ceremony of the new Lawrence County center, alongside state and local government officials, higher education partners, industry leaders, community members and Columbia State faculty and staff. 
"The partnership between Lawrence County goes back to the 1970s and it has grown through the years," said Dr. Janet F. Smith, Columbia State president. "The history of Columbia State and Lawrence County is one of success, which has given rise to the dreams that result in this beautiful campus. Now in 2021, we're celebrating the opening of an educational center that continues the growth of opportunity and that partnership that started many years ago." 

In 2014, community leaders began dreaming of expanding the educational opportunities for students to include earning a baccalaureate degree in Lawrence County. This concept included a partnership between Columbia State and area four-year institutions.
"In Lawrence County, we don't wait for opportunities, we create them," said Tim Pettus, First Farmers and Merchants Bank and Corporation vice chairman. 

In 2018, the STHEC broke ground and is the first community-owned, collaborative college campus in the state.
"This is a historic day for Lawrenceburg, and for the state of Tennessee," said Governor Bill Lee. "What happens in rural Tennessee matters to every Tennessean, and what's happening in this community right now will profoundly impact all of our state. When people's lives are changed through education, they're changed for generations." 

The center was a collaborative effort among Lawrence County leadership, the state of Tennessee and higher education institutions across the state.
"Everybody worked as a team, that's what it takes to pull something like this off," said Randy Boyd, University of Tennessee president. "All of us are going to be working together. We're going to work in new ways that have probably not been seen in higher education."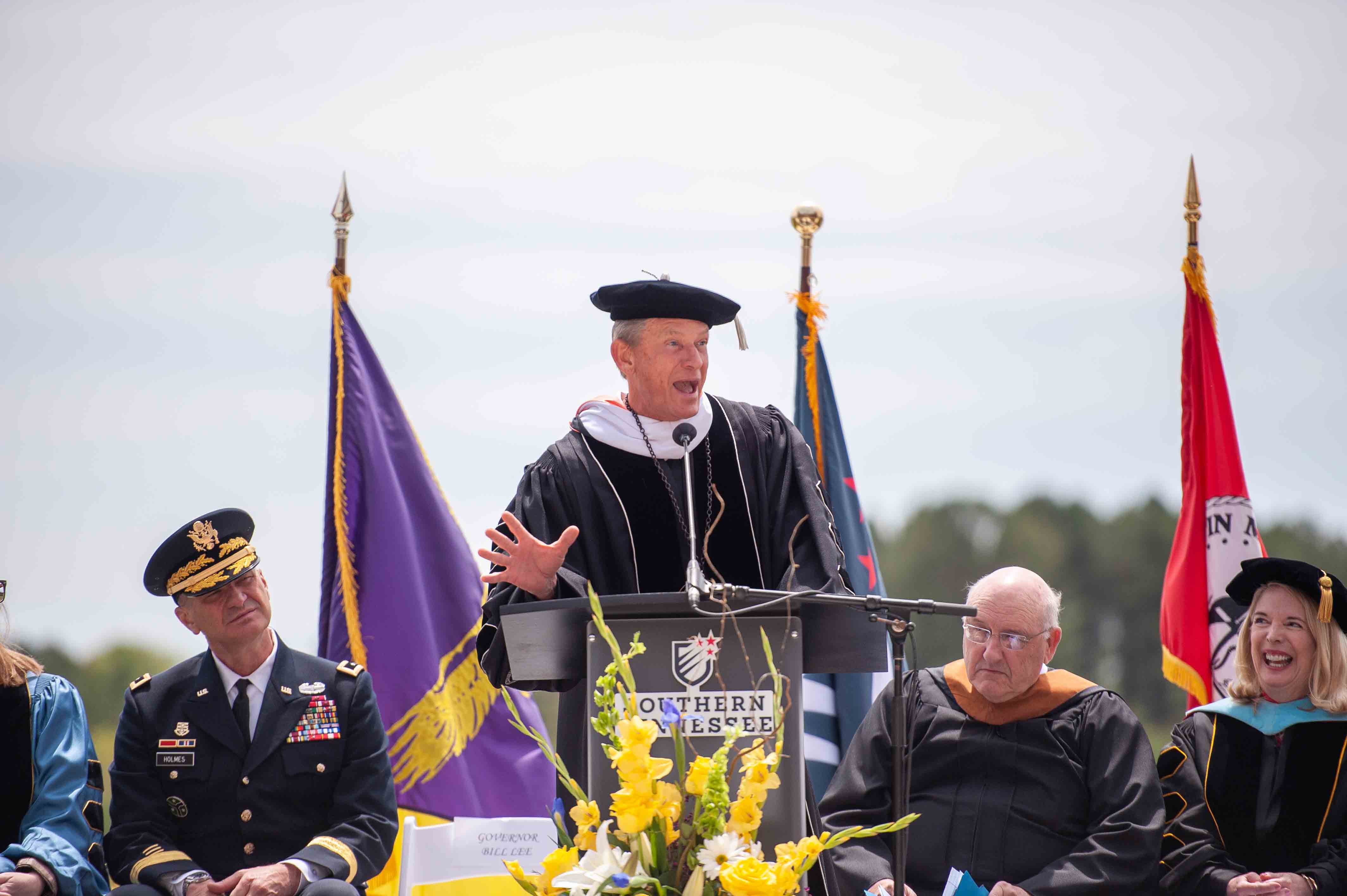 The facility was designed to encourage community and celebrate academic collaboration and houses 15 classrooms, more than 11 administrative offices and support spaces, more than 12 faculty offices and support spaces, library group study spaces, a student engagement room and a community room with catering kitchen. 
"When you think about a facility like this under one roof, access to multiple institutions, multiple types of courses, multiple programs, multiple paths in a rural community to serve all of the community members, it's hard not to cite that as the best practice, of which we should all be so proud," said Dr. Emily House, Tennessee Higher Education Commission executive director. 

In the STHEC, students will have the opportunity to take classes from Columbia State, Martin Methodist College, Tennessee Technological University and the University of Tennessee system.
"Today is about partnerships, it's about bringing people together," said Dr. Phil Oldham, Tennessee Technological University president. "Today we celebrate the realization of a vision that was born in this community, giving rise to unlikely partnerships."

"We have watched this project with amazement and we have been a part of these discussions for some time," said Dr. Mark Le Branche, Martin Methodist College president. "There has been a lot of belief that something will happen, and things are happening and we are excited."

Dr. Flora Tydings, Tennessee Board of Regents chancellor, recognized the leaders that made the center a reality.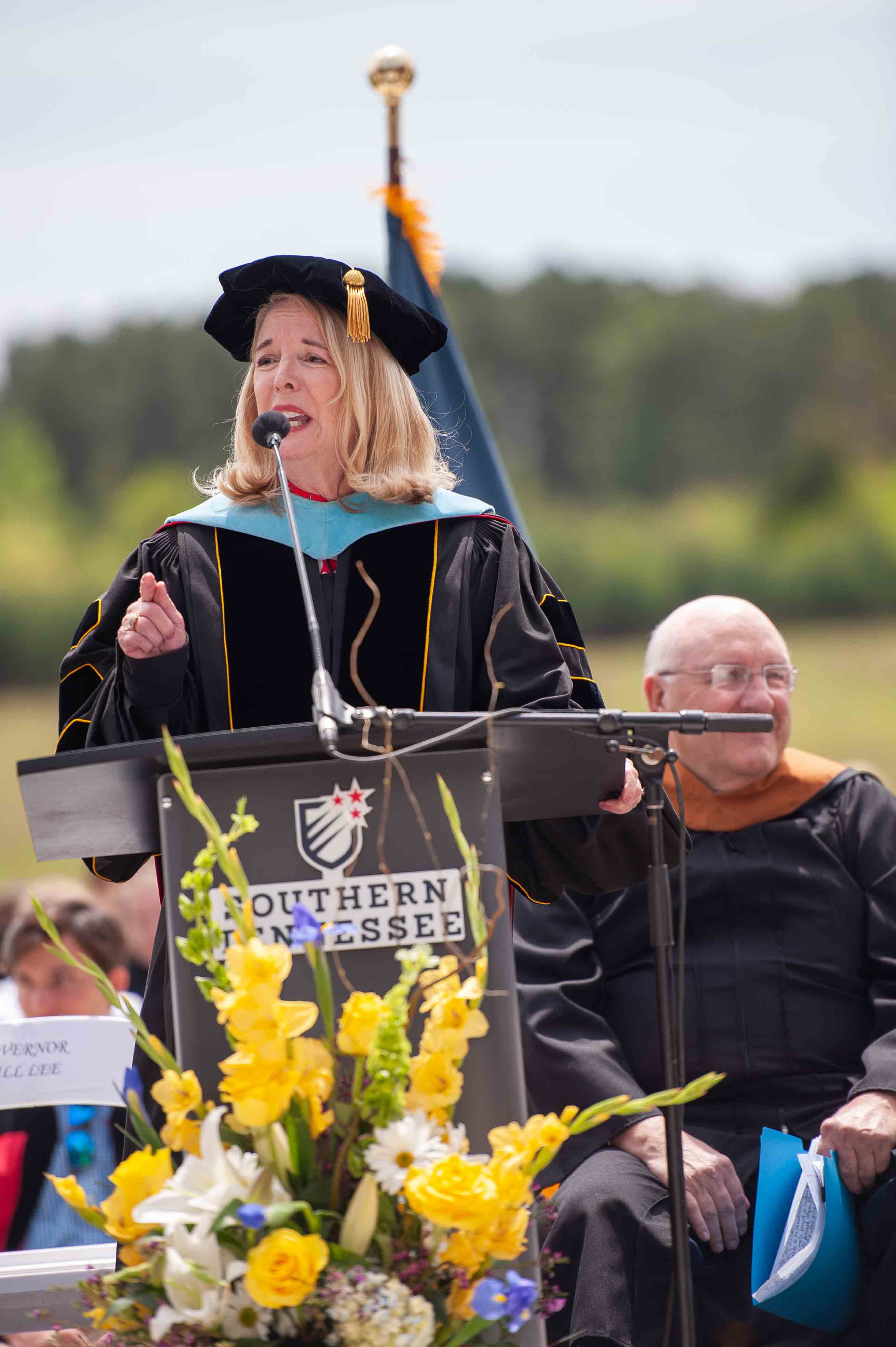 "This building is going to change lives," Tydings said. "Thank you to each and every one of you that made this building a reality." 
During the ceremony, Tydings presented Columbia State with the SOAR trophy for the 2021 Community College of the Year, which was announced three weeks ago during a virtual ceremony.

"At our annual SOAR event, we recognize the best of the best in our system," Tydings said. 
She continued, "this award is not just given away, it is earned. It is based on their performance measures, initiatives that they've put in that help with student success and how well they have performed throughout the year. Columbia State is a tribute to this state, to this nation for all that you do."