Apr 06, 2018
Columbia State Partners with UT and Hampshire School, Fosters Agricultural Education
(COLUMBIA, Tenn. - April 6, 2018) - - - Columbia State Community College recently solidified a partnership with Hampshire Unit School and the University of Tennessee, Knoxville Agriculture program that will aid Hampshire Unit in becoming a premier K-12 school of applied sciences and resources. A kickoff event was held March 21 to celebrate the new partnership.
Dr. Dearl Lampley, dean of the Science, Technology and Mathematics Division at Columbia State, explained the many benefits of the partnership.
"There will be measurable and immeasurable qualities to this program," Lampley said. "In terms of measurable, the partnership is going to improve persistence, attendance and the number of post-secondary opportunities these students will have. For the immeasurable, going to class is going to be more fun and there are endless opportunities for the future."
Teachers will be trained in developing and delivering agriculture-based curriculum to students - the school will be a feeder for both of the colleges' agriculture programs. Jennifer Richards, UT assistant professor of agricultural leadership, education and communication, has been working with Hampshire educators for over a year to provide professional development and coaching to transition to agricultural project-based learning.
"This partnership is over a year in the making," said Dr. Chris Marczak, Maury County Public Schools superintendent. "I am proud of these institutions for pulling resources together and making this happen."
Dr. Mark Fly, UT Institute of Agriculture professor of Forestry, Wildlife and Fisheries, talked about seamless transitions, experiential learning opportunities and community collaboration created by the partnership.
"Our mission is to develop a model for K-12 schools for project-based learning for agriculture and natural resources," Fly said. "We want to create experiential learning field trip opportunities for Hampshire students to visit Columbia State and UTK."
There are a number of UT facilities and programs in Maury County to provide real-world, hands-on learning opportunities including the W.P. Ridley 4-H Center and the Middle Tennessee Research and Education Center in Spring Hill. In addition, there are opportunities to collaborate with local farmers, agriculture industries and government agencies such as the Columbia Environmental Field Office, the Tennessee Division of Forestry and the Tennessee Wildlife Resources Agency.
Columbia State is currently developing dual credit courses for high school students to earn college credit towards an associate degree in agriculture that will seamlessly transfer to UTK for students to complete their bachelor's degree.
Columbia State has already secured a $25,000 specialty crop block grant from the Tennessee Department of Agriculture for the partnership. The grant will fund the master plan, designed by UTK graduate students, for the landscaping and architecture of the Hampshire crop farm for students taking specialty crop education courses.

Photo Caption: Sonya Cathey, Hampshire Unit School principal, kicks off the event by welcoming guests and thanking Columbia State, the University of Tennessee, Knoxville and other donors for their involvement.

Photo Caption: Hampshire Unit School students lead school tours.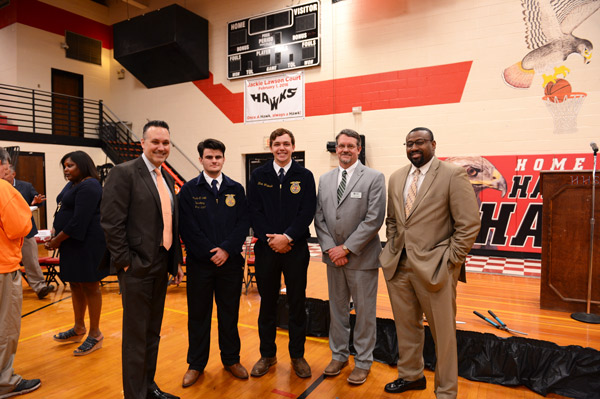 Photo Caption: (Pictured, left to right): Dr. Chris Marczak, MCPS superintendent; Hampshire students Austin Smith and Kirk Whiteside; Dr. Dearl Lampley, Columbia State dean of the Science, Technology and Mathematics Division; and Dr. Ron Woodard, MCPS superintendent of instruction.
# # #