Jun 05, 2017
Columbia State EWD Pins June Phlebotomy Graduates
(COLUMBIA, Tenn. - June 5, 2017) - - - Columbia State Community College's Office of Economic and Workforce Development recently recognized 8 phlebotomy technicians in a pinning ceremony on the Columbia Campus.
"It was such a joy to work with such highly motivated and hardworking students," said Amy Bridges, retired Maury Regional Medical Center laboratory coordinator and phlebotomy co-instructor.
Phlebotomy technicians specialize in drawing blood and work in a variety of health care systems and organizations, and certification adds credibility and a competitive edge for applicants. Each student completed 48 hours of classroom instruction along with 100 clinical hours in the Phlebotomy Technician Certification Preparation Course.
Columbia State partnered with MRMC, Southern Tennessee Regional Hospital, Williamson Medical Center and Labcorp for students to have access to facilities in the area for clinical practice. The program is designed to increase student success in health care programs.
"I am very proud of each of the students for achieving their goal of National Healthcareer Association phlebotomy certification," said Marsha Griffis, MRMC phlebotomy supervisor and phlebotomy co-instructor.
The instructors prepared the class with rigorous content review and practice exams in preparation for the NHA certification exam. As a result of the students' hard work, the class received a 100 percent first-attempt pass rate on the nationally recognized exam; the 2017 national average pass rate is 92 percent.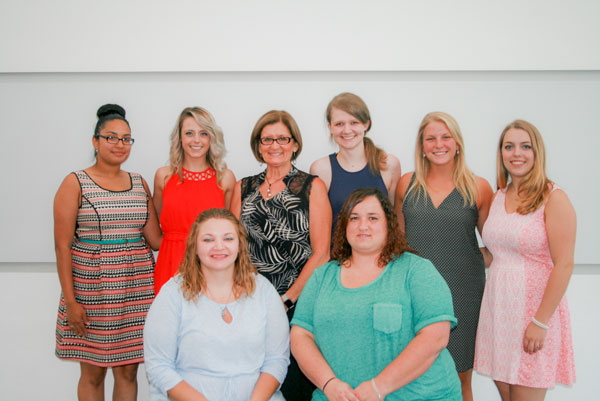 Photo Caption: June 2017 phlebotomy graduates. (Back row, left to right): Tiffany Pardo, Columbia; Skye Parker, Hohenwald; Amy Bridges, retired MRMC laboratory coordinator and phlebotomy co-instructor; Holly Amoroso, Lewisburg; Katherine Held, Columbia; and Lindsey Bunte, Franklin. (Front row, left to right): Samantha Bowman, Lyles, and Kelli Kidder, Lynnville. Not pictured: Amy Clark, Lewisburg.
Columbia State is a two-year college, serving a nine-county area in southern Middle Tennessee with locations in Columbia, Franklin, Lawrenceburg, Lewisburg and Clifton. As Tennessee's first community college, Columbia State is committed to increasing access and enhancing diversity at all five campuses. Columbia State is a member of the Tennessee Board of Regents, one of the largest higher education systems in the nation. For more information, please visit www.ColumbiaState.edu.
Tennessee's Community Colleges is a system of 13 colleges offering a high-quality, affordable, convenient and personal education to prepare students to achieve their educational and career goals in two years or less. We offer associate degree and certificate programs, workforce development programs and transfer pathways to four-year degrees. For more information, please visit us online at tncommunitycolleges.org.
# # #