Mar 06, 2017
Mechatronics Event Showcases Student Success
Check out the showcase video here.

(COLUMBIA, Tenn. - March 6, 2017) - - - Fairview High School recently hosted an open house to showcase the successful partnership with Columbia State Community College that provides mechatronics-based dual-credit courses.
"I can't thank Columbia State enough for this seamless, innovative partnership," said Dr. Juli Oyer, Fairview principal. "This program is changing the trajectory for our students - this is changing lives."



Photo Caption: Fairview High School students demonstrate pipe cutting in the mechatronics lab.
Through the program, students have the opportunity to earn their high school diploma, a technical certificate and an Associate of Applied Science degree in Advanced Integrated Industrial Technology at the same time.
"This program means that students will get a large chunk of their two-year associate degree done by the time they walk across the stage at high school graduation," said Kevin Sizemore, Fairview CTE department chair and mechatronics teacher.
A panel of mechatronics students discussed the program, the skills that they have obtained, what they enjoy the most about the program and other details about what they have been learning.
"I think this class is bigger than the high school," said Mario Pukl, Fairview High School sophomore. "I go out into the community and a lot of people ask me about the class and I tell them about the things I do in here … they are impressed. People take pride in this class and it is definitely something to take pride in."
Oyer emphasized this is a program that supports the Tennessee workforce. To date, 34 students are enrolled in the program - 91 percent of the enrolled students have earned between four and six college credits in the first six months of the program.
"People who have skills in mechanical, electrical, robotics and programmable logic controlling are the people that we look to become Nissan Maintenance Technicians, and the need for maintenance technicians has been expanding," said Wayne Ellington, Nissan North America Reliability Centered Maintenance Supervisor. "Since we hire from mechatronics and similar programs, we are eager to support them."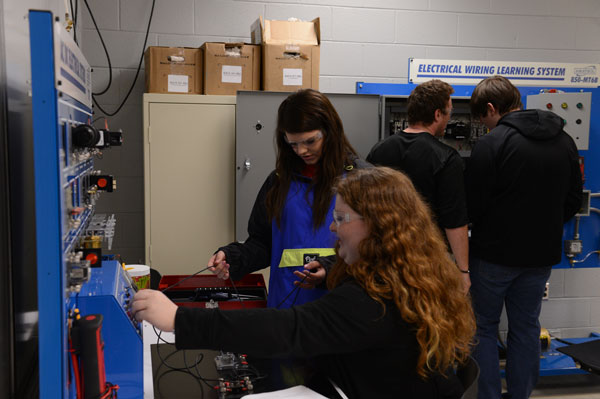 Photo Caption: Fairview High School students practice electrical wiring skills.
"These students will have a jump start towards high demand, high paying jobs and the complementary benefits of early college courses which are project based are enormous in terms of retention, completion and student engagement," said Dr. Dearl Lampley, Columbia State dean of science, technology and mathematics division.
Columbia State's AiiT program is designed to prepare graduates for many different careers related to manufacturing with an emphasis on technology, critical thinking and problem solving. Students take courses in the basic fundamentals of engineering technology and move to very advanced applications including robotics. To learn more about the AiiT program, visit www.ColumbiaState.edu/AiiT or contact Dr. Dearl Lampley at 931.540.2678 or dlampley@ColumbiaState.edu.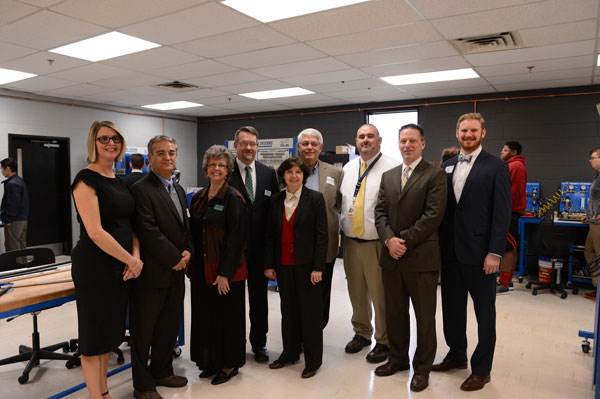 Photo Caption: (Pictured left to right) Dr. Juli Oyer, Fairview High School principal; Mehran Mostaijir, Columbia State AiiT program director, Dr. Margaret D. Smith, Columbia State executive vice president-provost; Dr. Dearl Lampley, Columbia State dean of science, technology and mathematics division; Dr. Janet F. Smith, Columbia State president; Rogers Anderson, Williamson County mayor; Dr. David Allen, WCS career and technical education coordinator; and Curt Johnston, THEC Education and Workforce Alignment director.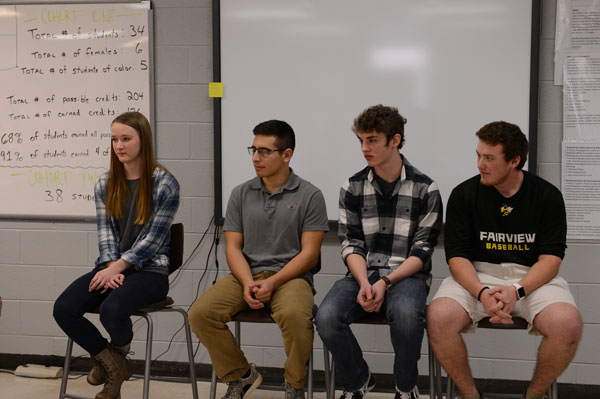 Photo Caption: Fairview High School mechatronics student panel. (Pictured left to right) Erin Bates, sophomore; Mario Pukl, sophomore; Caleb Highsmith, sophomore; and Connor Collins, junior.

Learn more about the Fairview High School mechatronics program.
Columbia State is a two-year college, serving a nine-county area in southern Middle Tennessee with locations in Columbia, Franklin, Lawrenceburg, Lewisburg and Clifton. As Tennessee's first community college, Columbia State is committed to increasing access and enhancing diversity at all five campuses. Columbia State is a member of the Tennessee Board of Regents, one of the largest higher education systems in the nation. For more information, please visit www.ColumbiaState.edu.
Tennessee's Community Colleges is a system of 13 colleges offering a high-quality, affordable, convenient and personal education to prepare students to achieve their educational and career goals in two years or less. We offer associate degree and certificate programs, workforce development programs and transfer pathways to four-year degrees. For more information, please visit us online at tncommunitycolleges.org .
# # #