Jun 16, 2016
Two Lady Chargers Receive National Honors
(COLUMBIA, Tenn. - June 13, 2016) - - - Columbia State Community College saw two members of their softball program receive awards from the National Junior College Athletic Association recently when pitcher Gretchen Greer was named to the NJCAA All-American Team and outfielder Kara Brewer was awarded the NJCAA Marucci Elite Hitter Award.
Greer, a sophomore, had a terrific season in the circle for the Lady Chargers. The Collinwood native made Columbia State history with 29 wins to 7 losses on the year besting the previous school record of 24 wins in a season.
Greer also accrued strikeouts at an impressive rate to tally 301 on the season, shattering the old record of 230. On May 9, Greer was also recognized by the Tennessee Community College Athletic Association as a Region VII 1st Team member and the TCCAA Pitcher of the Year.
Brewer joined her teammate on the TCCAA Region VII 1st Team rankings and received the TCCAA Player of the Year award for her efforts as an outfielder. The sophomore from Lawrenceburg was one of the leading hitters in the NJCAA all season long before finishing the year with a .537 batting average, the second highest in school history.
The NJCAA Marucci Elite Hitter Award is given to the All-American nominee with the highest batting average in each district. Brewer's .537 mark ranked third highest among all award winners.
"Both of these softball student-athletes have given our college national recognition that is well deserved," said Johnny Littrell, Columbia State athletic director and softball coach. "They made my last year of coaching one to remember."
Greer and Brewer were huge contributors to the Lady Chargers squad that finished their regular season with a 41-10 record that included a 28-game win streak.

Photo Caption: Kara Brewer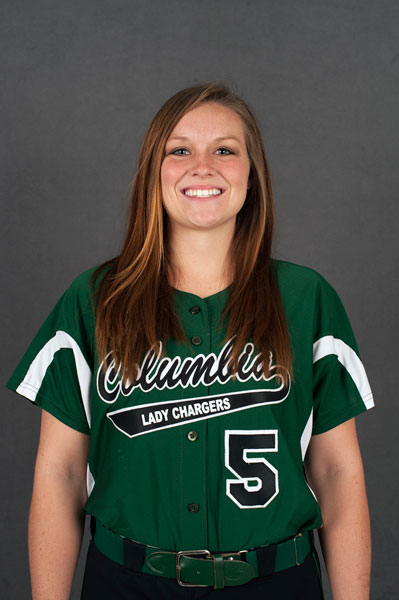 Photo Caption: Gretchen Greer
Columbia State is a two-year college, serving a nine-county area in southern Middle Tennessee with locations in Columbia, Franklin, Lawrenceburg, Lewisburg and Clifton. As Tennessee's first community college, Columbia State is committed to increasing access and enhancing diversity at all five campuses. Columbia State is a member of the Tennessee Board of Regents, one of the largest higher education systems in the nation. For more information, please visit www.columbiastate.edu.
Tennessee's Community Colleges is a system of 13 colleges offering a high-quality, affordable, convenient and personal education to prepare students to achieve their educational and career goals in two years or less. We offer associate degree and certificate programs, workforce development programs and transfer pathways to four-year degrees. For more information, please visit us online at tncommunitycolleges.org.
# # #