Aug 31, 2015
Columbia State Recognizes Distinguished Alumnus, Dr. Victor Beck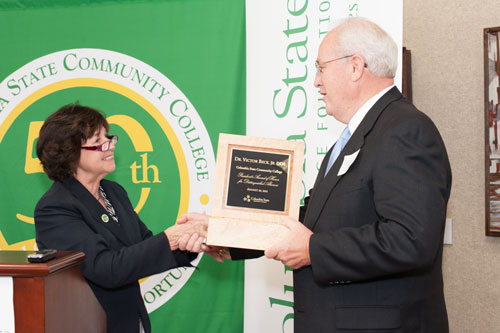 Photo Caption:
Janet F. Smith, Columbia State president, presents Dr. Victor Beck with a special handcrafted and engraved wooden box as his gift for the President's Award of Honor for Distinguished Alumni.
(COLUMBIA, Tenn. - Aug. 31, 2015) - - - Recognized for outstanding success in his field, service to society and his demonstrated support of Columbia State Community College, Columbia dentist, Dr. Victor Beck, Jr. was presented with the President's Award of Honor for Distinguished Alumni on Thursday, Aug. 20.
"It is my privilege to present this award to Dr. Beck," said Dr. Janet F. Smith, Columbia State president. "He has been an active Columbia State alum, as well as an active community member. He has given support in time, voice and action, and he is one who gives back which pays it forward."
A member of the Columbia State Foundation from 2004-2010, Beck has also been a leader in the development of and a contributor to the chemistry endowment, which was established in honor of his chemistry professor, Dr. B.I. Naddy, who retired in 2010.
Beck's award was presented during the Foundation Scholarship Luncheon, providing him the opportunity to speak to scholarship recipients and their donors. A scholarship recipient himself, Beck told students the donors supported and believed in them.
"You just never know what an influence you can have and how far that goes down the road," Beck said. "So you as a recipient, I as a recipient, need to realize there's an obligation. You need to pay it forward, and trust me, you'll enjoy it."
Knowing at the age of 16 he wanted to become a dentist, Beck realized his dream when he opened Beck Dental Care in 1974. He has been serving Columbia and its dental care needs since creating the practice.
Beck graduated Summa Cum Laude with an Associate of Science degree in 1970. He went on to graduate with honors from the University of Tennessee's College of Dentistry in 1973.
Beck is a member of the American Dental Association, the Academy of General Dentistry, The Tennessee Dental Association and the American Academy of Cosmetic Dentistry.
Beck was joined at the luncheon by his wife, Tricia, his sons, Vic III and Adam, and several other family members and friends.

Photo Caption: Front row, left to right: Juli Beck, Lilli Beck, Tricia Beck and Holly Beck. Back row, left to right: Vic Beck III, Victor Beck, Jr. and Adam Beck.
Columbia State is a two-year college, serving a nine-county area in southern Middle Tennessee with locations in Columbia, Franklin, Lawrenceburg, Lewisburg and Clifton. As Tennessee's first community college, Columbia State is committed to increasing access and enhancing diversity at all five campuses. Columbia State is a member of the Tennessee Board of Regents, one of the largest higher education systems in the nation. For more information, please visit www.columbiastate.edu.
Tennessee's Community Colleges is a system of 13 colleges offering a high-quality, affordable, convenient and personal education to prepare students to achieve their educational and career goals in two years or less. We offer associate degree and certificate programs, workforce development programs and transfer pathways to four-year degrees. For more information, please visit us online at tncommunitycolleges.org.
# # #