Jun 18, 2015
Commercial Entertainment Celebrates 20 Years


(COLUMBIA, Tenn. - June 15, 2015) - - - Friday, June 5, Columbia State Community College's commercial entertainment held its 20th Anniversary Reunion. The celebration featured alumni and current students performing various vocal and dance medleys from past theater performances.


Photo Caption: Anna Guarino sings "Think of Meryl Streep" from the musical "Fame."
Photo Caption: Bethanie Lyon (left) as JoJo and Logan McCann (right) as Horton the Elephant perform "Alone in the Universe" from "Seussical."
Photo Caption: John Edmundson (center) performs "Kiss" by Prince. Pictured, left to right: Bethanie Lyon, Katie Crockett, Brittany Brewer, Edmundson, Kelsey Teegarden, and Mark Tutaj.
Photo Caption: Commercial entertainment alumni, Seth Teegarden, Anna Guarino, John Edmundson, Brittany Brewer, Kelsey Teegarden, Teriney Crawford, Mark Tutaj, and Logan McCann perform a contemporary dance to "Uptown Funk" by Mark Ronson and Bruno Mars.
Photo Caption: Teriney Crawford sings "Home" from The Wiz.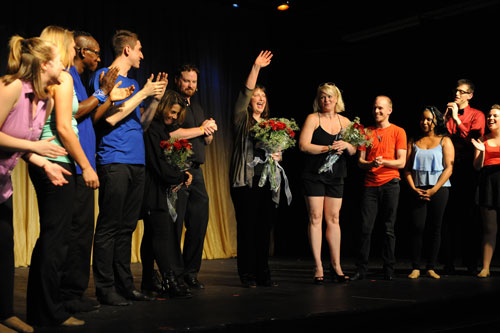 Photo Caption: Commercial entertainment alumni gathered around Cathy Hudnall, program director and assistant professor of the program, as she waves to the crowd after the show.
Columbia State is a two-year college, serving a nine-county area in southern Middle Tennessee with locations in Columbia, Franklin, Lawrenceburg, Lewisburg and Clifton. As Tennessee's first community college, Columbia State is committed to increasing access and enhancing diversity at all five campuses. Columbia State is a member of the Tennessee Board of Regents, one of the largest higher education systems in the nation. For more information, please visit www.columbiastate.edu.
Tennessee's Community Colleges is a system of 13 colleges offering a high-quality, affordable, convenient and personal education to prepare students to achieve their educational and career goals in two years or less. We offer associate degree and certificate programs, workforce development programs and transfer pathways to four-year degrees. For more information, please visit us online at tncommunitycolleges.org.