Jun 12, 2015
Columbia State Accepting Applications for Fall Semester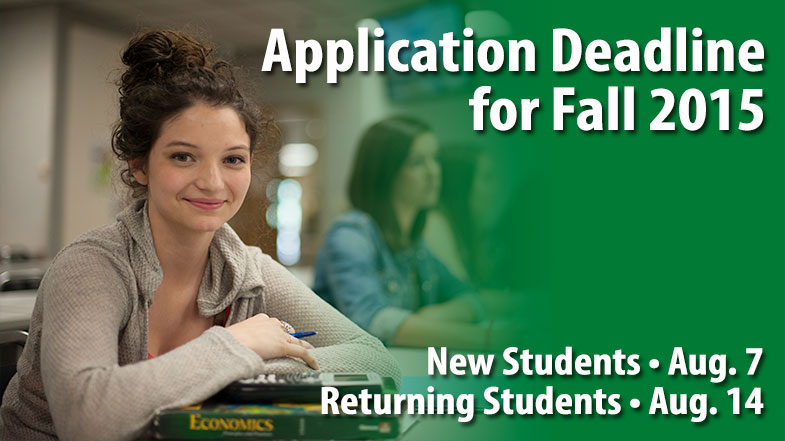 Important Deadlines Fast Approaching!
(COLUMBIA, Tenn. - June 12, 2014) - - - Columbia State Community College's fall semester begins Aug. 24, and important application deadlines are fast approaching for new and returning students.
New students must complete and submit an application by the Aug. 7 deadline. Returning students who have missed one or more semesters must reapply for admission by Aug. 14. Fall registration closes Aug. 18.
Upon acceptance, new students must schedule and attend a Right Start Orientation, where they will meet with an adviser and register for classes. Both faculty and staff are ready to help students with the registration process, answer questions, and create a plan based on their individual needs.
Applications are currently accepted online at www.ColumbiaState.edu/apply. There is a $10 one-time application fee for first-time applicants.
For more information, visit the Columbia State website, call (931) 540-2790, or visit the Columbia campus at 1665 Hampshire Pike Monday - Thursday between 7:45 a.m. and 6 p.m. and Friday from 7:45 a.m. to 4:15 p.m. to talk with someone in person. To visit another campus, please see below for summer operating hours.
Clifton Campus
795 Main Street, Clifton
Through July 2: Monday - Thursday: 9 a.m. to 3 p.m.
Beginning July 6: Monday - Thursday: 8 a.m. to 4 p.m.

Lawrence County Campus
620 Springer Road, Lawrenceburg
Monday - Thursday: 7:45 a.m. to 9 p.m.
Friday: 7:45 a.m. to 4 p.m.

Lewisburg Campus
980 Ellington Parkway, Lewisburg
Monday - Friday: 8 a.m. to 4:15 p.m.

Williamson Campus
104 Claude Yates Drive, Franklin
Monday - Thursday: 7:30 a.m. to 9 p.m.
Friday: 7:30 a.m. to 4 p.m.

Columbia State is a two-year college, serving a nine-county area in southern Middle Tennessee with locations in Columbia, Franklin, Lawrenceburg, Lewisburg and Clifton. As Tennessee's first community college, Columbia State is committed to increasing access and enhancing diversity at all five campuses. Columbia State is a member of the Tennessee Board of Regents, one of the largest higher education systems in the nation. For more information, please visit www.columbiastate.edu.
Tennessee's Community Colleges is a system of 13 colleges offering a high-quality, affordable, convenient and personal education to prepare students to achieve their educational and career goals in two years or less. We offer associate degree and certificate programs, workforce development programs and transfer pathways to four-year degrees. For more information, please visit us online at tncommunitycolleges.org.
# # #