May 14, 2015
Columbia State Pins 60 New Nursing Grads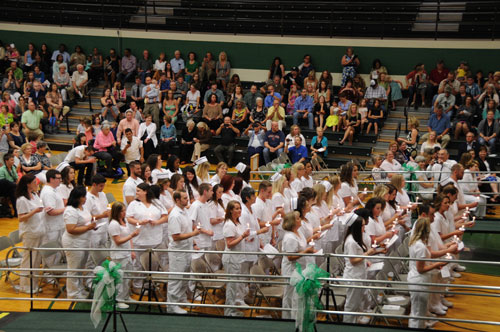 Photo Caption: Nursing graduates include residents of Giles, Hickman, Lawrence, Lewis, Marshall, Maury, Wayne and Williamson Counties, as well as Bedford, Cheatham, Davidson, Dickson, Humphreys, Rutherford and Sumner Counties.

(COLUMBIA, Tenn. - May 14, 2015) - - - Columbia State Community College pinned sixty new nursing graduates in a traditional ceremony held Friday, May 8 in the Webster Athletic Center.
"The May 2015 nursing graduates are ready to face the challenges of health care. They have participated in activities to improve the quality of nursing care in hospital and community settings," said Barb Blum, director of Columbia State's nursing program. "They have also been involved with volunteer events with Vanderbilt Children's Hospital, King's Daughter's and others. They are a well-rounded group of future professionals that will enhance the nursing profession."
Columbia State nursing graduates recently completed four semesters of classroom instruction and ten credit hours of clinical instruction in order to earn an Associate of Applied Science degree in nursing. Next, graduates must pass the National Council Licensure Examination in order to earn licensure, which is required to practice as a registered nurse. The Columbia State nursing students' first-attempt pass rate for the NCLEX is 88.46 percent, which surpasses the national rate of 86 percent.
Nursing students are trained to provide direct patient care in various areas, including medical, surgical, pediatrics, and more. After graduation, these nurses will work in hospitals, long-term care facilities, clinics, schools and home health care settings.
"The nursing program at Columbia State has a reputation for consistently meeting the needs of patients, providers, and medical facilities throughout the college's service area and beyond," said Dr. Kae Fleming, dean of Columbia State's health sciences division and professor of radiologic technology. "Graduates leave the program well prepared to successfully obtain licensure and employment, and there are unlimited opportunities for the registered nurse graduate from the two-year college."
The Columbia State nursing program is committed to excellence in nursing education. It has received full approval from the Tennessee Board of Nursing and is accredited by the Accreditation Commission for Education in Nursing. The program's four-year average graduate job placement rate is 95.2 percent.
Columbia State's nursing program has a competitive admission process with applicants admitted twice per year. For more information about applying to the program, contact Blum at (931) 540-2609 or bblum@ColumbiaState.edu, or visit www.ColumbiaState.edu/Nursing.

Photo Caption: Columbia State Community College nursing graduates light candles and recite the nursing pledge in honor of Florence Nightingale and all those who have worked diligently to promote the nursing profession.

Photo Caption: Nursing graduate, Derica Yates (Dickson) smiles for the camera as she gets ready to lead the candle lighting ceremony.
Bedford County: Joanna Velasquez (Shelbyville).
Cheatham County: Regina Meader (Pegram).
Davidson County: Shauna Miller (Hermitage), Emily Bradbury (Nashville), and Verlease Gates (Nashville), Shawn Wilson (Nashville).
Dickson County: Chessnee Tinsley (Burns) and Derica Yates (Dickson).
Giles County: Mary Haynes (Ethridge).
Hickman County: Jessica Trotter (Nunnelly) and Jessica Villareal (Nunnelly).
Humphreys County: Shannon Kilgore (McEwen).
Lawrence County: Daniel Patterson (Ethridge), Aaron Kyle (Lawrenceburg), Amanda Runions (Lawrenceburg), Scarlett Taylor (Leoma), Ross Blair (Loretto), and Summertown residents, Kayla France, Miranda Goins, Sommer Smith and Holly Wilson.
Lewis County: Jana Touton (Hohenwald) and Miranda Skelton (Summertown).
Marshall County: Rachel Bourland, Canaan Rains and Sarah Williams of Chapel Hill, and Laiken Spivey (Lewisburg).
Maury County: Columbia residents, Kayla Abernathy, Matthew Alsup, Jacqueline Andrews, Brittany Cormier, Irina Hebert, Elizabeth Kirtley and Mark White, Addison Elrod (Culleoka), Dylan Prince (Mt. Pleasant), and Tracy Hull (Spring Hill).
Rutherford County: Michelle Wilson (Smyrna)
Sumner County: Alan Wood (Gallatin).
Wayne County: Iron City residents, Whitney Butler and Kimberly Littrell, and Waynesboro residents, Austin Burks and Agustin Villanueva.
Williamson County: Brentwood residents: Sara Gormsen, Jaclyn Henry, Kara Jones and Amanda Plant; Franklin residents: Anthony Ainslie, Charlie Friend, Amanda Johnson, Catherine Murdic, Jordan Pritchett, Emily Sledge, Melanie Tracey and Lauren Winfree; Nolensville resident: Amy Goode; Spring Hill residents: Catherine Hurst and Yaremi Hurst.
Columbia State is a two-year college, serving a nine-county area in southern Middle Tennessee with locations in Columbia, Franklin, Lawrenceburg, Lewisburg and Clifton. As Tennessee's first community college, Columbia State is committed to increasing access and enhancing diversity at all five campuses. Columbia State is a member of the Tennessee Board of Regents, one of the largest higher education systems in the nation. For more information, please visit www.columbiastate.edu.
Tennessee's Community Colleges is a system of 13 colleges offering a high-quality, affordable, convenient and personal education to prepare students to achieve their educational and career goals in two years or less. We offer associate degree and certificate programs, workforce development programs and transfer pathways to four-year degrees. For more information, please visit us online at tncommunitycolleges.org.
# # #