May 06, 2015
Pryor Gallery Exhibits Western Movie Posters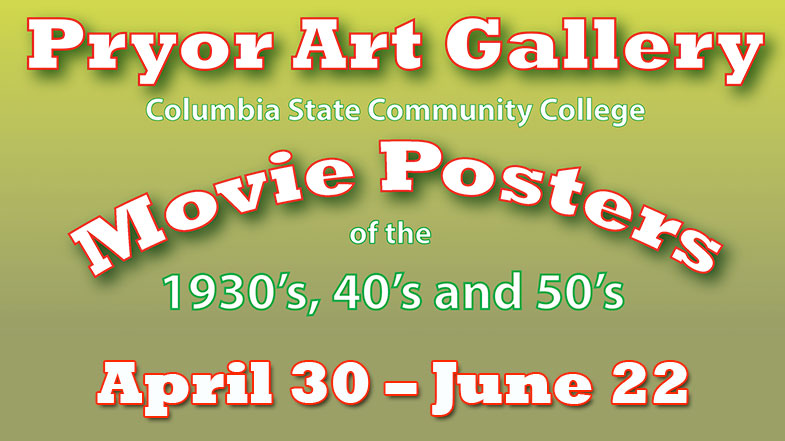 (COLUMBIA, Tenn. - May 6, 2015) - - - Columbia State Community College's Pryor Art Gallery is currently exhibiting a private collection of Western movie posters. The exhibit will run through June 22.
"Packy Smith, a TV producer, script writer, author, publisher and collector of movie memorabilia, has generously loaned 30 of his historic movie posters to the Pryor Art Gallery," said Rusty Summerville, Pryor Gallery curator. "Packy, an old friend, is also on the board of the Lone Pine Film Festival and the Lone Pine Film History Museum in Lone Pine, California."
The movie posters are mostly from B Western movies filmed during the 1930s, 40s and 50s by cowboy actors and singers, including Gene Autry, Tex Ritter, Eddie Arnold and Governor Jimmie Davis, writer of "You Are My Sunshine." Also included is a poster of "Johnny Come Lately," starring James Cagney.
The Pryor Gallery is in the Waymon L. Hickman Building on the Columbia Campus, located at 1665 Hampshire Pike. The gallery is open and free to the public Monday through Thursday, 8 a.m. - 5 p.m. and Friday from 8 a.m. - 4 p.m. Please visit www.ColumbiaState.edu/PryorGallery for full artist biographies and additional information.
Columbia State is a two-year college, serving a nine-county area in southern Middle Tennessee with locations in Columbia, Franklin, Lawrenceburg, Lewisburg and Clifton. As Tennessee's first community college, Columbia State is committed to increasing access and enhancing diversity at all five campuses. Columbia State is a member of the Tennessee Board of Regents, one of the largest higher education systems in the nation. For more information, please visit www.columbiastate.edu.
Tennessee's Community Colleges is a system of 13 colleges offering a high-quality, affordable, convenient and personal education to prepare students to achieve their educational and career goals in two years or less. We offer associate degree and certificate programs, workforce development programs and transfer pathways to four-year degrees. For more information, please visit us online at tncommunitycolleges.org.
# # #