May 04, 2015
Columbia State Recognizes TRiO Graduates
Photo Caption: Pictured are the 2014-2015 TRiO graduates. Front Row, left to right: Drew Tucker (Loretto), Tiffany Simbeck (Loretto), Miranda Dotson (Ethridge). Back row, left to right: Janice Mashburn (Lawrenceburg), Adrian Dawson (Columbia), Derek Feldt (Columbia), Edward Fields (Columbia).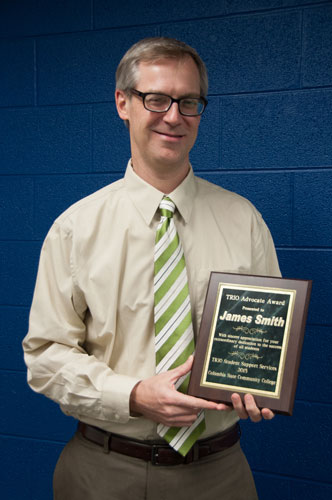 Photo Caption: James Smith, associate professor of mathematics, was presented with the TRiO Advocate Award.

(COLUMBIA, Tenn. - May 4, 2015) - - -
Recognizing participants of the program, as well as those who are graduating from the college this spring, Columbia State Community College's TRiO Student Support Services hosted their fourth annual Student Awards Celebration Tuesday, April 28.
"The TRiO program provides support for first-generation students to successfully complete college," said Dr. Sherica Clark Nelms, TRiO Student Support Services director. "It's exciting to see them grow and gain the confidence and skills they need to complete their degree at Columbia State."
Students accepted into the TRiO program receive academic coaching, assistance with career exploration, tutoring services, registration assistance, student success seminars and workshops, and cultural and social engagement events designed specifically for them and a multitude of other services.
TRIO Student Support Services is a federally funded program designed to provide academic support, transfer assistance and personal development programming to 140 students at Columbia State Community College.
The mission of the TRiO Student Support Services program is to provide underrepresented student populations with the added support mechanisms needed to meet the challenges of higher education. Through the development of academic and personal skills, the program focuses on increasing student retention, and promoting degree completion.
Columbia State is a two-year college, serving a nine-county area in southern Middle Tennessee with locations in Columbia, Franklin, Lawrenceburg, Lewisburg and Clifton. As Tennessee's first community college, Columbia State is committed to increasing access and enhancing diversity at all five campuses. Columbia State is a member of the Tennessee Board of Regents, one of the largest higher education systems in the nation. For more information, please visit www.columbiastate.edu.
Tennessee's Community Colleges is a system of 13 colleges offering a high-quality, affordable, convenient and personal education to prepare students to achieve their educational and career goals in two years or less. We offer associate degree and certificate programs, workforce development programs and transfer pathways to four-year degrees. For more information, please visit us online at tncommunitycolleges.org.
# # #