Apr 22, 2015
STEM GiRLS Event Rockets to Success
Photo Caption: Rose Hobby (right), instructor of radiologic technology, led her group through the "Who Owns These Bones?" biology exhibit, helping them identify the different bones of the skeleton.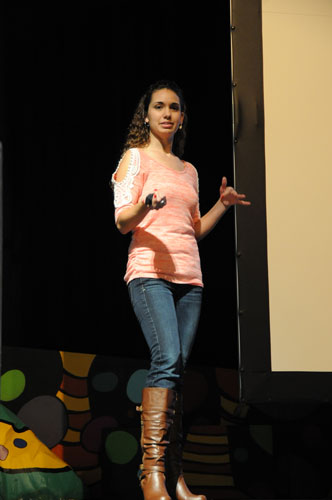 Photo Caption: Keynote speaker, Jessica Fain spoke of her experience setting a world record living underwater with fellow Roane State biology professor Bruce Cantrell for 73 days in the Jules' Undersea Lodge, located in the lagoon at Key Largo Undersea Park.
Photo Caption: Angela Malone, assistant professor of biology, assists two STEM GiRLS attendees while dissecting a cow's eyeball.

Photo Caption: STEM GiRLS attendees enjoy lunch on the lawn during the break between activity sessions.
Photo Caption: Attendees were able to try their hand at using the educannon to see how far a tennis ball could go compared to throwing one by hand.
(COLUMBIA, Tenn. - April 22, 2015) - - - On Saturday, April 18, Columbia State Community College held its second science, technology, engineering and mathematics "Girls Really Love Science" event, which promoted and encouraged the success of girls in STEM careers while showcasing a variety of hands-on, interactive activities for nearly 300 young women in 6th, 7th and 8th grades.
"This was my second time attending STEM GiRLS, and I really enjoyed my experiences," said Paige Williams, Loretto resident and 8th grade student from South Lawrence Elementary School. "I got to meet new friends and see what careers I would like to have in the future."
The event focused on various career opportunities available to women in STEM fields as they begin to think about their futures, along with a complementary adult session that provided insight on how to encourage and guide young women in STEM classes and careers.
"The parent sessions were fantastic," said Norma Sue Thompson, Columbia resident and grandmother of attendee, Jolee Boyd. "Dr. Robbie Melton's presentation of 'Emerging Technologies' was by far the most informative presentation on technology that I have ever seen. De'Marcus Jackson, Dr. Kelly Pujol, and Kaye Richards discussion of Michael Miranda's 'The Seven False Beliefs…of the Community College Student' allowed parents to realize that student preparedness is a stipulation, and attending a community college is a real education."
Thompson said Jolee thoroughly enjoyed and became immersed in the activities that would open new worlds for her.
"I am elated to share with you that STEM GiRLS not only met my expectations, but Jolee talked non-stop about all the activities she attended," Thompson commented.
The one-day event featured workshops designed to engage participants in educational and interactive hands-on activities that involved agricultural science, biology, chemistry, computer science, engineering, math, physics and other applied sciences.
Activities included strawberry DNA extraction, cow eyeball dissection, a technology forensics and cyber security workshop, lip gloss and bubblegum making, Lego robotics, rockets and a variety of other STEM-based workshops.
This year's keynote speaker was Lenoir City native, adjunct instructor of biology at Roane State Community College, Jessica Fain. Fain's specialty is biology, and she is a certified scuba diver, open water diver, aquanaut and underwater laboratory specialist.
Explaining that STEM careers are typically male dominated, Fain spoke to the girls about the necessity to change the stereotypes of women in STEM careers.
"Just by being here today, we are starting to change that," Fain said. "If you choose a career in STEM, it may not be the easiest choice you make, but it will be the best. You will have fun. Learn everything you can."
Dr. Glenn Hudson, event director and associate professor of mathematics, noted that other than medical fields and some computer science jobs, approximately 20 percent of the STEM jobs are held by females. He said improvement has been slow, but there is a long way to go.
"When I first envisioned this type of event a few years ago, I felt it important that young girls be encouraged to pursue the same kinds of opportunities as males in the STEM fields," Hudson said "For the most part, STEM jobs have been dominated by males. That fact is not only inherently unfair, but it also effectively eliminates 50 percent of the population from access to technological careers and the enormous brain power which is wasted."
Hudson also extends his thanks to the many dedicated and caring volunteers from Columbia State for their combined efforts with many volunteers from the surrounding communities for their support during the event.
"This event wouldn't have been possible without the team of volunteers and sponsors to offer their time and efforts for such a worthwhile event which helps not only the girls but also the entire Middle Tennessee region as well as the state," Hudson said.
Co-directors for the event were Andrew Wright, assistant professor of mathematics, and Holly Brew, associate professor of business.
STEM GiRLS was sponsored by General Motors in Spring Hill and Lucas Chevrolet, Parks Motor Sales, and Listerhill Credit Union, along with Tennessee Valley Authority, Columbia Power and Water Systems, Mount Pleasant Power System and Grace Talent, Technology and Trust.
Girls in attendance included students from various schools in Maury, Williamson, Marshall, Lawrence, Wayne, Lewis and Hickman Counties.
Columbia State is a two-year college, serving a nine-county area in southern Middle Tennessee with locations in Columbia, Franklin, Lawrenceburg, Lewisburg and Clifton. As Tennessee's first community college, Columbia State is committed to increasing access and enhancing diversity at all five campuses. Columbia State is a member of the Tennessee Board of Regents, one of the largest higher education systems in the nation. For more information, please visit www.columbiastate.edu.
Tennessee's Community Colleges is a system of 13 colleges offering a high-quality, affordable, convenient and personal education to prepare students to achieve their educational and career goals in two years or less. We offer associate degree and certificate programs, workforce development programs and transfer pathways to four-year degrees. For more information, please visit us online at tncommunitycolleges.org.
# # #