Dec 13, 2014
Columbia State Celebrates Fall 2014 Commencement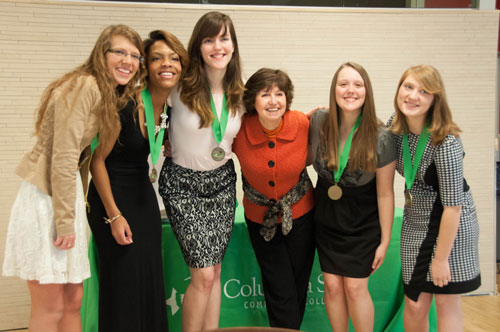 Photo Caption: Six students received the President's Leadership Society medallion for completing all requirements of the leadership training program prior to graduation. Throughout the course of the program, students attend a leadership retreat, enjoy exposure to the arts, participate in workshops and campus life, develop civic understanding and give back to the community through service. Pictured, left to right: Ruth Evans (Franklin); Aubrey Green (Columbia); Kayla Dicus (Hohenwald); Dr. Janet F. Smith, Columbia State president; Ashley Parchment (Hohenwald); and Jennifer Perryman (Lewisburg). Not pictured: Janelle Williams (Loretto)

(COLUMBIA, Tenn. - Dec. 13, 2014) - - - Approximately 140 students were recognized for their accomplishments at the Columbia State Community College fall 2014 commencement ceremony held in the Webster Athletic Center Saturday, Dec. 13.
"We are here to celebrate the accomplishment of growing, learning and being," said Dr. Janet F. Smith, Columbia State president. "We are proud of our graduates as they have set goals, and they have accomplished those goals. That is a mighty thing."
Smith commented that an organization has many working parts that all work together to be as strong as it can be.
"Columbia State is a strong organization thanks to the many students and committed faculty and staff that work together to be the best they can be," Smith continued.
Columbia native, Judge Randolph Baxter delivered the fall 2014 commencement address, congratulating students on their success and encouraging them to never forget this day.
"This is the part you will always remember," Baxter said.
Baxter also spoke of relationships and how important they are in being successful.
"Your relationships have collectively brought you across this bridge," Baxter said. "Be very grateful for them, as you will see them again. You never can tell when you'll see these people."
Baxter also explained there were three keys to success, a person's relationship with their faith as being most important. He stated that the number two key was to never stop learning, and the third key is to always have a plan and know where you're going.
"Learning is a lifelong process that prepares you to sharpen your marketable skills," Baxter explained. "Focus on your goals and objectives until they are accomplished."
Baxter and his wife, Yvonne, reside in Richfield, Ohio and are the proud parents of four children and grandparents to six grandchildren. In his spare time, he plays the trumpet with the Cleveland Clinic Concert Band.
Graduates include residents of Giles, Hickman, Lawrence, Lewis, Marshall, Maury, Perry, Wayne and Williamson Counties, as well as Davidson, Knox, Madison, Sumner and Wilson Counties and other areas of Tennessee.

Photo Caption: Loretto residence, Janelle Williams is a mathematics and physics major who has transferred to the University of Alabama at Huntsville. She plans to earn her bachelor's degree with a double major in industrial and systems engineering and engineering management with a minor in management and leadership. Williams is a President's Leadership Society graduate, as well as a member of Phi Theta Kappa honor society and the STEM Club. She was also selected as the first female from Columbia State to participate in the National Community College Aerospace Scholars program this past spring at NASA's Marshall Space Flight Center in Huntsville. Front row: Pictured, left to right: Janelle Williams, Paige Williams, Ashley Williams and Jake Williams. Back row: David Williams.




Photo Caption: Leoma resident, Shirley Brown is an accounting major who is planning to continue her studies at Middle Tennessee State University where she'll also major in accounting. She was a member of Phi Theta Kappa honor society and a peer leader at Columbia State. Brown earned a leadership award this past spring, and she was awarded the Harold Pryor scholarship. She attended the Lawrence County Campus and said she feels the campus is a great contribution to Lawrence County. Brown noted that her favorite thing about Columbia State is how the faculty and staff always made her feel welcome.
Photo Caption: Eric Lentz, Williamson County resident and Leesburg, Virginia native, and Sed Lanas, Sumner County resident, just completed their technical certificates in film crew technology. Lentz plans to continue his education at a four-year university to earn a bachelor's degree in English so he can become a screenwriter, while Lanas plans to go straight to work at one of the local camera rental houses in Nashville. Lentz and Lanas chose Columbia State after hearing about the award winning program, as well as the affordable tuition and the concentrated, hands-on experience available for film and television production. Pictured, left to right: Eric Lentz and Sed Lanas.


Photo Caption: Williamson County resident, Johnathan Cueva earned a general transfer associate degree with a concentration in graphic design. The Independence High School graduate plans to transfer to Middle Tennessee State University where he plans to major in graphic design. Cueva plans to move back to his native New York after he earns his bachelor's degree. He noted that he chose Columbia State because he feels it is a good school with a welcoming environment, great classes and good friends. Pictured, left to right: Vilma Cueva, Cueva's mother; Johnathan Cueva; and Cueva's grandmother.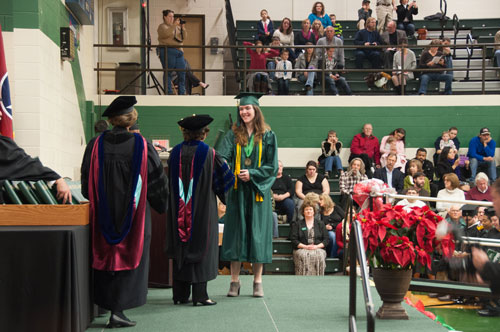 Photo Caption: Hohenwald resident, Kayla Dicus earned an associate degree in sociology and plans to transfer to Middle Tennessee State University where she wants to earn a bachelor's degree in sociology. She noted that she also wants to continue her studies to complete her graduate degree. Actively involved on campus, the Lewis County High School graduate was a member of the Student Government Association, Phi Theta Kappa honor society, Sigma Kappa Delta honor society and the President's Leadership Society. Dicus was also a peer leader for which she won the Peer Counseling Award this past spring. She commented that her mom is a Columbia State alumna, and she loves the tight-knit atmosphere and how everyone knows everybody on campus.



Photo Caption: Columbia resident and Wilson County native, Tia Gibson earned an Associate of Applied Science degree in nursing and plans to continue her studies at the University of Alabama in Huntsville, Vanderbilt University or Middle Tennessee State University. She either wants to specialize in nursing education or become a certified registered nurse anesthetist. Gibson has been active in the Student Nursing Association as a member and is the immediate past president, and she was a member of Phi Theta Kappa and Sigma Kappa Delta honor societies. She has earned multiple scholarships and has participated in numerous community outreach projects such as the SNA summer outreach project at The Bridge at Columbia assisted living community. Gibson said she chose Columbia State for its affordability, location and reputation. She noted that she liked the environment and the friendly faculty and staff.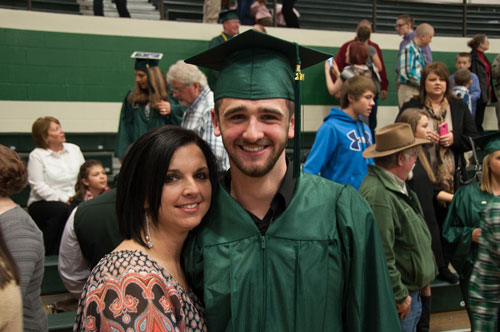 Photo Caption: Columbia resident and Summertown native, Derek Feldt just earned his associate degree in criminal justice and plans to go straight to work. He noted that he would like to work with a K-9 division in Nashville or a surrounding area and plans to continue his education at a university after gaining experience in the field. Feldt was a member of TRiO, and he was awarded the Barnes and Noble and Judge Ingram scholarships. He was also a student worker in the college bookstore and is a first-generation college student. Feldt said he chose Columbia State for the affordability and is happy to have met so many people while attending. Feldt is pictured with his mother, Angela Tignor.
Columbia State is a two-year college, serving a nine-county area in southern Middle Tennessee with locations in Columbia, Franklin, Lawrenceburg, Lewisburg and Clifton. As Tennessee's first community college, Columbia State is committed to increasing access and enhancing diversity at all five campuses. Columbia State is a member of the Tennessee Board of Regents, one of the largest higher education systems in the nation. For more information, please visit www.columbiastate.edu.
Tennessee's Community Colleges is a system of 13 colleges offering a high-quality, affordable, convenient and personal education to prepare students to achieve their educational and career goals in two years or less. We offer associate degree and certificate programs, workforce development programs and transfer pathways to four-year degrees. For more information, please visit us online at tncommunitycolleges.org.
# # #