Oct 15, 2014
Columbia State Awarded NASA Scholarship Grant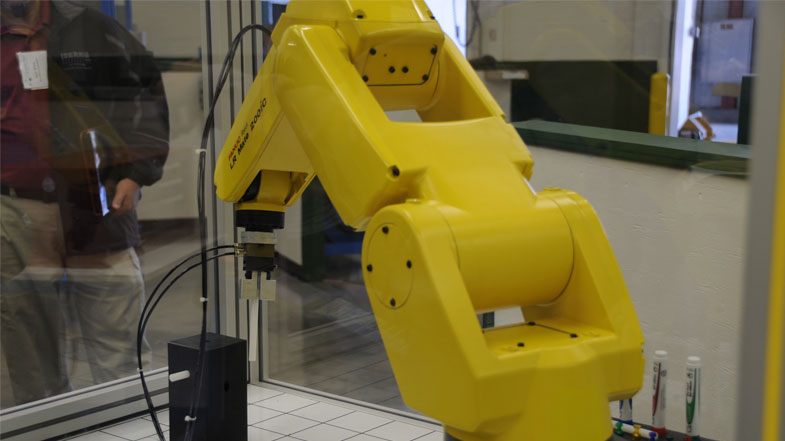 Photo Caption:
The Fanuc LR Mate 200iC is currently used in the Advanced Integrated Industrial Technology program at the Northfield Campus in Spring Hill.

(COLUMBIA, Tenn. - Oct. 15, 2014) - - -
Columbia State Community College was recently awarded a $45,000 grant from NASA that will provide scholarships to women and other underrepresented students enrolled in certain science, technology, engineering and math degree and certificate programs.
"Members of the STM Division at Columbia State are extremely excited about the NASA grant and the opportunities it will present our students," said Dearl Lampley, dean of Columbia State's science, technology and math division. "This grant also corresponds with the STM division's push to recruit females into these disciplines, and we hope to enhance our STEM GiRLS event this spring through this opportunity."
Lampley also explained the grant coincides with the recent emphasis of robotics at Columbia State as some pre-engineering labs now involve robotics training, and two robotics courses have been incorporated into the Advanced Integrated Industrial Technology and Information Systems Technology programs at Columbia State. He said the AiiT program deals with stationary Fanuc robotics for manufacturing while the IST program uses mobile units which students build from components.
"Both courses require certain levels of programming and computer logic which will be invaluable in the future careers of our graduates," Lampley said.
While approximately 62 percent of students enrolled at Columbia State are female, only 28 percent of pre-engineering, IST and AiiT students are female. Designed to encourage and inspire female and other underrepresented students in these programs, the grant will afford students the opportunity to persist and graduate with an associate degree or certificate in the student's chosen career.
The grant was part of a nearly $500,000 award to the Tennessee Community College Space Grant Consortium and will last for two years. The consortium is based at Vanderbilt University and includes 11 colleges and universities in the state.
Columbia State is a two-year college, serving a nine-county area in southern Middle Tennessee with locations in Columbia, Franklin, Lawrenceburg, Lewisburg and Clifton. As Tennessee's first community college, Columbia State is committed to increasing access and enhancing diversity at all five campuses. Columbia State is a member of the Tennessee Board of Regents, one of the largest higher education systems in the nation. For more information, please visit www.columbiastate.edu.
Tennessee's Community Colleges is a system of 13 colleges offering a high-quality, affordable, convenient and personal education to prepare students to achieve their educational and career goals in two years or less. We offer associate degree and certificate programs, workforce development programs and transfer pathways to four-year degrees. For more information, please visit us online at tncommunitycolleges.org.
# # #