Jul 25, 2014
Columbia State Represented at TSRC State Convention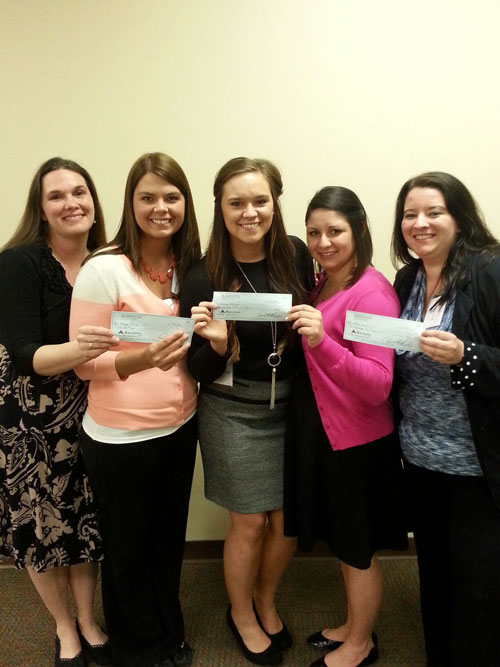 Photo Caption: Pictured, left to right: Miranda Paschall (Fairview), Megan Porter (Chapel Hill), McKayla DeRidder (Columbia), Alyson Zumbrum-Furline (Bon Aqua) and Jessica Welsh (Shelbyville).

(COLUMBIA, Tenn. - July 25, 2014) - - - Columbia State Community College was represented at the Tennessee Society for Respiratory Care Annual State Convention and Exhibition this spring. First and second year students attended sessions concerning patient safety and the role of the respiratory therapist in the emergency department and during transport, as well as other topics.
For the second year the TSRC sponsored a student poster presentation with cash awards for the first, second and third place finishers, with awards of $300, $200 and $100 respectively. Columbia State students won all three awards, competing against Baptist College of Health Sciences in Memphis.
The first place award went to McKayla DeRidder (Columbia) and Alyson Zumbrum-Furline (Bon Aqua) for their poster depicting airway pressure release ventilation. Second place was awarded to Jessica Welsh (Shelbyville) for her poster on monitoring exhaled nitric oxide, and Megan Porter (Chapel Hill) and Miranda Paschall (Fairview) took third place for their aerosolizing morphine poster.
"It was very exciting being able to explain something we as students are passion about to others who enjoy listening," said DeRidder, a 2014 respiratory care program graduate. "My partner and I won first place and were very excited to have hard work pay off. I hope to be able to return as a working respiratory therapist next year."
Coming in second place, Columbia State students also excelled in the Sputum Bowl, a student competition in which schools compete by answering various clinical questions. The Columbia State team consisted of Aaron Etienne (Loretto), Rachel Curtis (Chapel Hill), Betsy George (Centerville) and Savannah Davis (Centerville). For the fourth year in a row Walters State won the competition.
"I have enjoyed going to the state convention for the past two years," DeRidder said. "It is a great experience to learn in a different atmosphere and create better relationships with our classmates."
Columbia State is a two-year college, serving a nine-county area in southern Middle Tennessee with locations in Columbia, Franklin, Lawrenceburg, Lewisburg and Clifton. As Tennessee's first community college, Columbia State is committed to increasing access and enhancing diversity at all five campuses. Columbia State is a member of the Tennessee Board of Regents, one of the largest higher education systems in the nation. For more information, please visit www.columbiastate.edu.
Tennessee's Community Colleges is a system of 13 colleges offering a high-quality, affordable, convenient and personal education to prepare students to achieve their educational and career goals in two years or less. We offer associate degree and certificate programs, workforce development programs and transfer pathways to four-year degrees. For more information, please visit us online at tncommunitycolleges.org.
# # #