Jul 10, 2014
Educational Leaders Summit Focuses on Tennessee Promise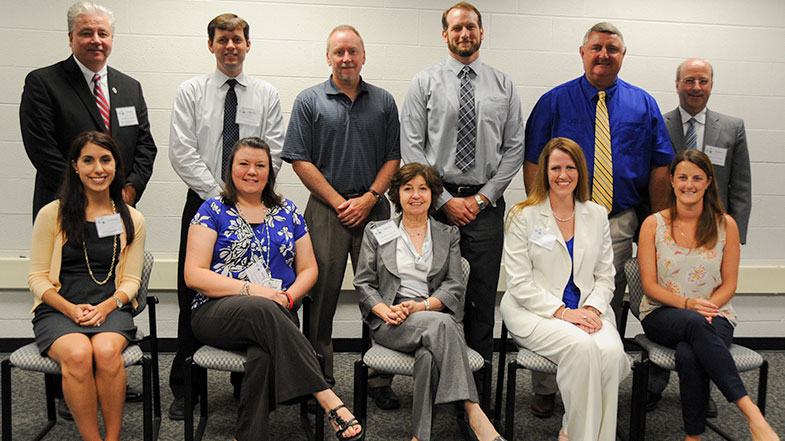 Photo Caption: Attendees of the second South Central Tennessee Educational Leaders Summit included (front row, left to right) Jennifer Dreis, regional coordinator for tnAchieves; Misty Shelton, supervisor of academic support services for Hickman County Schools; Dr. Janet F. Smith, Columbia State president; Andrea Cooper, student services coordinator, Tennessee College of Applied Technology in Hohenwald; Jackie Hartmann, director of operations, tnAchieves. (Back row, left to right) Tony Creecy, director Tennessee College of Applied Technology in Pulaski; Jason Rich, Wayne County executive; Marlon Davis, supervisor of attendance and transportation for Wayne County Schools; Jacob Sorrells, deputy director of Marshall County Schools; Joe Boyd Liggett, Marshall County mayor; and Dr. Ted Brown, Martin Methodist College president.
(COLUMBIA, Tenn. - July 9, 2014) - - - Columbia State Community College recently hosted its second South Central Tennessee Educational Leaders Summit to discuss the state of education in Middle Tennessee and how the Tennessee Promise will impact students and educational institutions.
Held on the Columbia campus, the event was designed to bring together educational leaders within the South Central Tennessee region, including representatives from area school districts, Tennessee Colleges of Applied Technology and Martin Methodist College.
The discussion consisted of an overview of the Promise including the timeline, requirements and deadlines students will need to meet in order to participate in the program. As part of the requirements, students must work with an assigned mentor, complete the Free Application for Federal Student Aid, attend two mandatory meetings, complete eight hours of community service, and apply and enroll in a community college or Tennessee College of Applied Technology.
In order to retain this last-dollar scholarship, students must maintain satisfactory academic progress, complete eight hours of community service prior to the start of each semester, and complete the FAFSA by Feb. 15 each year.
"Removing the financial barriers for students will positively impact many lives and increase accessibility to a post-secondary education," said Janet F. Smith, Columbia State president. "The mentorship component will play an integral role in assisting and encouraging students as they make the transition from high school and ultimately help them to be more successful in earning their degree."
Representatives from tnAchieves were in attendance to discuss how the similar Knox County-based initiative used last-dollar scholarships with mentor guidance to provide a post-secondary education to students who otherwise lacked the opportunity. The initiative is in its sixth year and since its inception has seen a 7.61 percent college-going rate increase in Knox County.
The leaders have agreed to continue to work together in order to identify challenges that students may face and how they can increase awareness of the upcoming educational and financial opportunities available through the Promise. The next meeting will take place in November and will include further discussion of the Tennessee Promise.
In order for incoming high school seniors to participate, they will need to apply to the program by Nov. 1. For additional details and a full list of requirements for the Promise, visit www.driveto55.org/tennessee-promise.
Columbia State is a two-year college, serving a nine-county area in southern Middle Tennessee with locations in Columbia, Franklin, Lawrenceburg, Lewisburg and Clifton. As Tennessee's first community college, Columbia State is committed to increasing access and enhancing diversity at all five campuses. Columbia State is a member of the Tennessee Board of Regents, one of the largest higher education systems in the nation. For more information, please visit www.columbiastate.edu.
Tennessee's Community Colleges is a system of 13 colleges offering a high-quality, affordable, convenient and personal education to prepare students to achieve their educational and career goals in two years or less. We offer associate degree and certificate programs, workforce development programs and transfer pathways to four-year degrees. For more information, please visit us online at tncommunitycolleges.org.
# # #