Jun 18, 2014
Columbia State, Williamson County Schools Partner for WIT Center of Excellence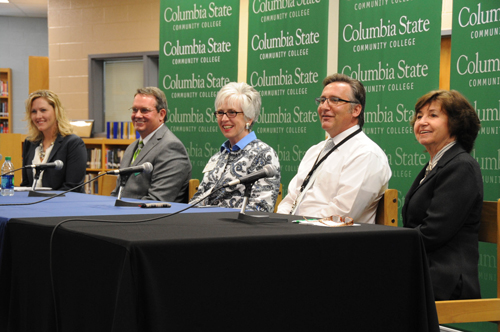 Photo Caption: Dr. Janet F. Smith, Columbia State president; Dearl Lampley, dean of the science, technology and mathematics division; Dr. Mike Looney, Williamson County Schools superintendent; Dr. Leigh Webb, Centennial High School principal; and Pat Anderson, Williamson County School Board chair gathered to explain in greater detail the significance of the partnership for Williamson County students and take questions from members of the media. Pictured (left to right): Webb, Lampley, Anderson, Looney and Smith.
(COLUMBIA, Tenn. - June 17, 2014) - - -
Columbia State Community College held a press conference Tuesday, June 17 to announce its new partnership with Williamson County Schools for plans to develop Williamson's Information Technology Center of Excellence at Centennial High School.
"We are pleased to announce a state-of-the-art IT center with progressive technology classes for students to earn high school and college credit," said Dr. Leigh Webb, Centennial High School principal. "The primary classroom will have 28 iMacs and state-of-the-art software to prepare our students for IT careers."
While the number of IT jobs in Middle Tennessee is rapidly growing, a deficit in the number of qualified applicants remains. Through this collaborative effort, the WIT Center will promote interest and training in the IT professions among the young people of Williamson County by hosting college credit courses, summer camps, IT competitions and workforce development training.
"There is a huge deficit in the number of qualified employees for the IT industry, particularly in Williamson and Davidson Counties," said Dearl Lampley, dean of the science, technology and mathematics division at Columbia State. "The concept is to develop a holistic approach to promote IT as a career and to provide that training at the high school level, the college level, and in the workforce."
Dr. Janet F. Smith, Columbia State president, presented the concept for the center to Dr. Mike Looney, superintendent of Williamson County Schools, who fully supported the idea. Webb and Lampley spearheaded the project to make it happen.
"The reality of it is, Columbia State has been one of our very best partners in making sure that we provide quality opportunities and outcomes for our boys and girls," Looney said. "We look forward to continuing this strong relationship that we have and continuing to expand the opportunities where we blur the lines between traditional high school courses and college courses for the young men and women that we serve in our district."
Also in attendance was Pat Anderson, chair of the Williamson County School Board, who said that the WIT Center was a great solution to the deficit of qualified individuals.
"This is not only an incredible day for the Cougar Nation, it's an incredible day for our community," said Anderson. "I think this is a wonderful step in the right direction, and it fits in with the board's strategic plan. On behalf of the board, I'd like to thank Columbia State for partnering with Centennial High School to make this a reality."
Smith said the partnership was initiated for growth and opportunities for the students of Williamson County and as a way for students to transition into college and careers.
"This partnership shows that we all are working together for the betterment of the students," Smith said. "This is a way we've not worked together before, and it's the wave of the future. I think the lines will be blurred, and through continued support, I think we can only have a much stronger education system for our students that are here."
Webb noted that the first classes available this fall will be offered in two tracks, the first of which will include networking, while the second track will offer computer programming and web development. She explained that students will be able to sign up for the IT courses as electives or part of the 3-year track that fulfills the Tennessee high school graduation requirements.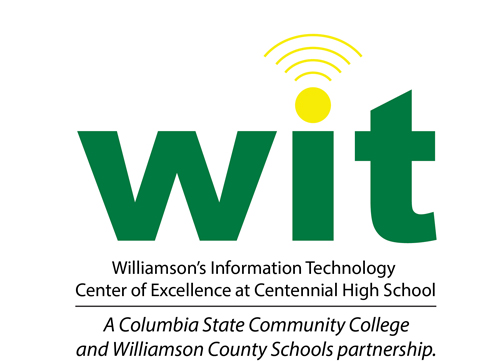 The WIT Center will open this fall and provide high school students the opportunity to take courses through Columbia State's dual enrollment program, which will allow students to earn both high school and college credits simultaneously. Courses will include computer applications, mobile app design and robotics.
The WIT Center is made possible by funding from Columbia State and will occupy an existing classroom, which is currently under renovation, at Centennial High School. In addition to the iMac computers and software, the center will house a large, interactive teacher workstation and four large TV screens to maximize teachable space.
"It's a wonderful day that Columbia State and Williamson County Schools have joined together," Smith said. "Centennial will house the initial WIT Center of Excellence, and it's our hope that it's the first of many to come."
Photo Caption: A rising senior at Centennial High School, Alyssa Ward was a member of the design and branding committee. Her design was selected as the official logo for the WIT Center.

Columbia State is a two-year college, serving a nine-county area in southern Middle Tennessee with locations in Columbia, Franklin, Lawrenceburg, Lewisburg and Clifton. As Tennessee's first community college, Columbia State is committed to increasing access and enhancing diversity at all five campuses. Columbia State is a member of the Tennessee Board of Regents, one of the largest higher education systems in the nation. For more information, please visit www.columbiastate.edu.
Tennessee's Community Colleges is a system of 13 colleges offering a high-quality, affordable, convenient and personal education to prepare students to achieve their educational and career goals in two years or less. We offer associate degree and certificate programs, workforce development programs and transfer pathways to four-year degrees. For more information, please visit us online at tncommunitycolleges.org.