May 30, 2014
Nursing Grads Pinned at Columbia State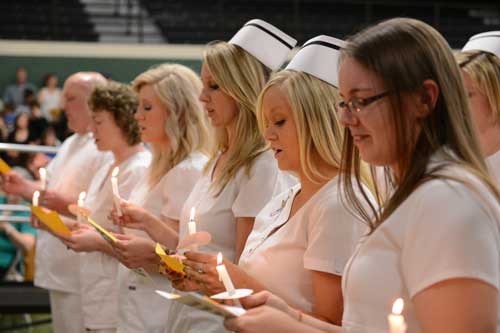 Photo Caption:
Columbia State Community College nursing graduates light candles and recite the nursing pledge in honor of Florence Nightingale and all those who have worked diligently to promote the nursing profession.
(COLUMBIA, Tenn. - May 30, 2014) - - - Columbia State Community College pinned sixty new nursing graduates in a traditional ceremony held May 9 in the Webster Athletic Center.
"This semester's graduating class of nursing students has multiple life experiences that will make them compassionate, caring and knowledgeable nurses in the workplace," said Barbara Blum, nursing program director. "They have been involved with college and community events that reflect their commitment to improving the lives of those they come in contact with."
Columbia State nursing graduates recently completed four semesters of classroom instruction and ten credit hours of clinical instruction in order to earn an Associate of Applied Science degree in nursing. Next, graduates must pass the National Council Licensure Examination in order to earn licensure, which is required to practice as a registered nurse. The Columbia State nursing students' first-attempt pass rate for the NCLEX is 88.2 percent, which surpasses the Tennessee average pass rate of 87.35 percent and the national rate of 84.69 percent.
Nursing students are trained to provide direct patient care in various areas, including medical, surgical, pediatrics and more. After graduation, these nurses will work in hospitals, long-term care facilities, clinics, schools and home health care settings.
The Columbia State nursing program is committed to excellence in nursing education. It has received full approval from the Tennessee Board of Nursing and is accredited by the Accreditation Commission for Education in Nursing. The program's four-year average graduate job placement rate is 95.2 percent.
Columbia State's nursing program has a competitive admission process with applicants admitted twice per year. For more information about applying to the program, contact Blum at (931) 540-2609 or bblum@ColumbiaState.edu, or visit www.ColumbiaState.edu/Nursing.
Photo Caption: Nursing graduates include residents of Giles, Hickman, Lawrence, Marshall, Maury, Perry and Williamson Counties, as well as Bedford, Cheatham, Davidson, Rutherford, Sumner and Wilson Counties.
Bedford County: Caylea Wilson (Bell Buckle)
Cheatham County: Regina Meader (Ashland City) and Krystal Sudberry (Pegram).
Davidson County: Michael Channell (Brentwood), Tammy Fowler (Nashville), Anna Hendrixon (Nashville), Brianna Sterling (Nashville) and Crystal Bobo (Nolensville).
Giles County: Brittny Wheeler (Lynnville) and Tia Morris (Pulaski).
Hickman County: Tabitha Manor (Bon Aqua), Amber Harvey (Bon Aqua) and Jennifer Coates (Nunnelly).
Lawrence County: Lawrenceburg residents Ashley Johnson, Julie Markus, Bridget Martin and Jessica Taylor; Kimberly Young (Loretto) and Molly Tucker (Summertown).
Marshall County: Lindsey Brock, Kelley Bush and Donnelle Steagall of Lewisburg.
Maury County: Columbia residents: Andrew Ackley, Jessica Andresen-Pahl, Melissa Brodeur, Andrea Butler, Tanissa Caulfield, Ashley Hodge, Courtney Holzer, Lauren Johnson, Nadine Kemp, Cortney King, Laura Neyman and Ashley Weathers; Culleoka residents: Julie Barnes and Heather Shore; Santa Fe resident: Kimberly McDaniel; Spring Hill residents: Janet Saison and Judy Schwartz.
Perry County: Hannah Reece (Linden)
Rutherford County: Krystal Troxel (Smyrna)
Sumner County: Amy Richardson (Cottontown) and Lindsay Wilson (Hendersonville).
Williamson County: Brentwood residents: Christopher Herbst and Darcy West; Franklin residents: Tonia Gibson, Brandon Goebbert, Gladys Kirkpatrick, Stacy Knellinger, Terin Stovall, Andrea Turvy, Rachel Umstot and Daniel Vossler; Nolensville resident: Hope Warfel; Spring Hill residents: Jalene Holeman and Corrine Phillips; Thompsons Station: Jaclyn Hale and Carol Heath.
Wilson County: Michelle McPherson (Lebanon) and Anna Zhamharyan (Mount Juliet).
Columbia State is a two-year college, serving a nine-county area in southern Middle Tennessee with locations in Columbia, Franklin, Lawrenceburg, Lewisburg and Clifton. As Tennessee's first community college, Columbia State is committed to increasing access and enhancing diversity at all five campuses. Columbia State is a member of the Tennessee Board of Regents, one of the largest higher education systems in the nation. For more information, please visit www.columbiastate.edu.
Tennessee's Community Colleges is a system of 13 colleges offering a high-quality, affordable, convenient and personal education to prepare students to achieve their educational and career goals in two years or less. We offer associate degree and certificate programs, workforce development programs and transfer pathways to four-year degrees. For more information, please visit us online at tncommunitycolleges.org.
# # #