May 23, 2014
Columbia State Honors Respiratory Care Graduates
Photo Caption:
Row one, left to right: Rachel Curtis (Chapel Hill), Alyson Zumbrum-Furline (Bon Aqua), McKayla DeRidder (Columbia), and Connie Vasquez (Rockvale). Row two, left to right: Donnie Prescott (Spring Hill), Jessica Welsh (Shelbyville), Kris Weber (Lyles), Lisa Boesinger (Thompson Station), and Colleen Gatton (Hendersonville). Row three, left to right: Miranda Paschall (Fairview), Magen Lynch (Pleasantville), Aaron Etienne (Loretto), and Megan Porter (Chapel Hill).
(COLUMBIA, Tenn. - May 23, 2014) - - - Columbia State Community College recently recognized 13 respiratory care graduates during its annual pinning ceremony.
"The 2014 respiratory care graduates have spent hundreds of hours at various clinical sites throughout Middle Tennessee," said David Johnson, director and associate professor of the respiratory care program. "They have cared for patients in the ICU at Maury Regional, the intensive care nursery at Vanderbilt Children's Hospital, trauma intensive care at Vanderbilt and at Southern Tennessee Regional Healthcare, to name a few."
Students trained to work as respiratory therapists provide assessment, diagnostic evaluation, treatment and care for patients with breathing disorders. Upon completion of the program, graduates become experts in artificial ventilation, resuscitation and airway management.
After earning an Associate of Applied Science degree, respiratory care graduates must complete three national exams in order to obtain the registered respiratory therapist credentials. The national average first-attempt pass rate is 80 percent, and for the past five years, the Columbia State respiratory care program first-attempt pass rate on the first of the three exams is greater than 90 percent.
Johnson said that the graduates are pursuing employment at long-term care facilities, home care agencies and area hospitals, such as Vanderbilt University Medical Center, Maury Regional Medical Center, Monroe Carell Jr. Children's Hospital at Vanderbilt, Saint Thomas West Hospital, Saint Thomas - Rutherford Hospital and STRH.
Columbia State's respiratory care program is accredited by the Commission on Accreditation for Respiratory Care. All students participate in supervised, hands-on care in a variety of area healthcare settings and receive adult, pediatric and neonatal training.
For more information about enrolling in the respiratory care program, visit www.ColumbiaState.edu/respiratory-care.

Bedford County


Pictured left to right: Connie Vasquez and Jessica Welsh.
Davidson County
Pictured: Colleen Gatton


Hickman County
Pictured left to right: Magen Lynch, Kris Weber and Alyson Zumbrum-Furline.


Lawrence County


Pictured: Aaron Etienne

Marshall County


Pictured left to right: Rachel Curtis and Megan Porter.
Maury County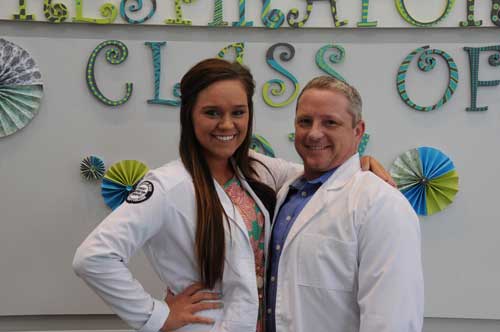 Pictured left to right: McKayla DeRidder and Donnie Prescott.


Williamson County


Pictured left to right: Lisa Boesinger and Miranda Paschall.
Columbia State is a two-year college, serving a nine-county area in southern Middle Tennessee with locations in Columbia, Franklin, Lawrenceburg, Lewisburg and Clifton. As Tennessee's first community college, Columbia State is committed to increasing access and enhancing diversity at all five campuses. Columbia State is a member of the Tennessee Board of Regents, one of the largest higher education systems in the nation. For more information, please visit www.columbiastate.edu.
Tennessee's Community Colleges is a system of 13 colleges offering a high-quality, affordable, convenient and personal education to prepare students to achieve their educational and career goals in two years or less. We offer associate degree and certificate programs, workforce development programs and transfer pathways to four-year degrees. For more information, please visit us online at tncommunitycolleges.org.
# # #