May 10, 2014
Columbia State Holds 2014 Spring Commencement
Photo Caption:
Columbia State Community College's 2014 spring commencement ceremony included 224 degree and certificate candidates from Maury, Williamson, Lawrence, Marshall, Hickman, Giles, Lewis, Perry and Wayne Counties, as well as other Tennessee counties and Latvia.
(COLUMBIA, Tenn. - May 10, 2014) - - - More than 220 degree and certificate candidates walked across the stage today at Columbia State Community College's 2014 spring commencement ceremony held in the W.J. "Billy" Webster Athletic Center.
"Commencement is a special day because we celebrate hard work," said Dr. Janet F. Smith, Columbia State president. "We celebrate the heart inside of the person that keeps pushing forward to achieve what they want to achieve and give back to the world in which we live."
Columbia State alumna Pam Thomason delivered the commencement address to the graduating class, urging them to thank the people who have stood behind and helped them throughout their journey.
"I'm a Columbia State graduate, and I'm very proud of the experience and education that I received here," Thomason said. "It's helped me over the years, and it's helped me fulfill my dreams for me and my family."
Explaining that the average person has 1,460 dreams per year, Thomason told graduates that even though they don't yet know how their dreams will be fulfilled their journey at Columbia State will enhance them.
Thomason reflected on how a professor once demonstrated and shared Stephen Covey's "Big Rocks" speech about how to differentiate the big things from the little things, advising the graduates to take care of the rocks first.
"Always take time to smell the roses, have no regrets, appreciate your parents, grandparents, brothers, sisters, husbands and wives," Thomason explained. "These are the folks that will always stand behind you no matter what. If you spend all your time and energy on the small stuff, you will never have room for the things that are important to you."
Thomason also offered advice to recognize and remember the teacher who instilled the passion to learn and the friend who has laughed and cried with them.
Although she began her college career at Columbia State right out of high school, Thomason decided to leave school and find a job. She returned to Columbia State in 2000, going on to earn a certificate in business management and complete an Associate of Applied Science degree in general technology in 2002.
"I feel dropping out was a mistake, but I also see the benefit it gave me later in life to appreciate the power of youth and knowledge," Thomason said. "It was much harder years down the road to get my degree, but I truly appreciate it now."
Thomason shared the ups and downs of her work experience with the audience and explained that there will always be changes, but it is their attitude that will determine how far they go. She urged them to always be kind and treat people the way they want to be treated, work hard and give 110 percent, and don't expect people to give them handouts.
"Life will throw you circumstances, but how you react is your choice," Thomason said. "As you go out into the world, always follow your dreams. Let the joy be in the journey. This is your life - the only one you get."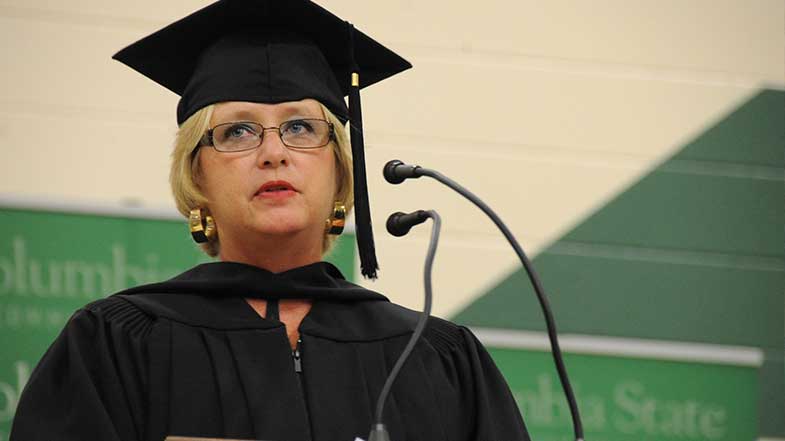 Photo Caption: Columbia State alumna, Pam Thomason encouraged graduates to find their place and chase their dreams when she delivered her commencement speech during the 2014 spring commencement ceremony.
Columbia State is a two-year college, serving a nine-county area in southern Middle Tennessee with locations in Columbia, Franklin, Lawrenceburg, Lewisburg and Clifton. As Tennessee's first community college, Columbia State is committed to increasing access and enhancing diversity at all five campuses. Columbia State is a member of the Tennessee Board of Regents, one of the largest higher education systems in the nation. For more information, please visit www.columbiastate.edu.
Tennessee's Community Colleges is a system of 13 colleges offering a high-quality, affordable, convenient and personal education to prepare students to achieve their educational and career goals in two years or less. We offer associate degree and certificate programs, workforce development programs and transfer pathways to four-year degrees. For more information, please visit us online at tncommunitycolleges.org.
# # #