Apr 29, 2014
Pryor Gallery to Exhibit Peruvian Artist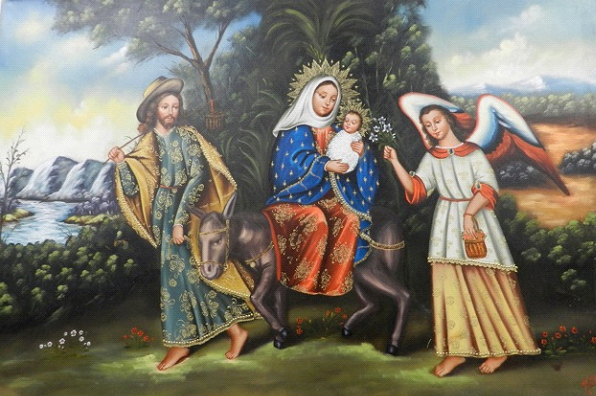 Photo Caption:
"Escape to Egypt."
(COLUMBIA, Tenn. - April 29, 2014) - - - The paintings of Peruvian artist, Clorinda Chavez Galdos Bell will be at Columbia State Community College's Pryor Art Gallery beginning Friday, May 1.
"Clorinda's paintings of Catholic iconography are both unique and expressive, but they are not often seen today," said Rusty Summerville, Pryor Gallery curator. "Her works are reminiscent of the 16th century art introduced to Cuzco, Peru, by Italian artist and Jesuit monk, Bernando Bitti."
The fifth of eight children, Bell was born in Cuzco, Peru, where she studied at the Universidad Nacional de San Antonio Abad del Cusco, earning a bachelor's degree in education for literature. Her passion for art led her to paint in the style unique to Cuzco.
Taking up the paint brush at age 11, Bell participated in what was traditionally a masculine art, winning over her brothers with her talent and becoming one of the first women to work in this genre of painting. Bell's relatives on both sides have carried on this style of painting for generations, and she grew up watching her father and brothers create wonderfully intricate communal canvases in the family workshop.
Bell now lives in Powell, Tennessee with her husband, Aaron. More of Bell's art can be seen at www.clorysart.com. Her exhibit in the Pryor Gallery will run through June 26.
The Pryor Gallery is located in the Waymon L. Hickman building on the Columbia campus. The gallery is open and free to the public Monday through Thursday, 8 a.m. - 5 p.m. and Friday from 8 a.m. - 4 p.m. Please visit www.ColumbiaState.edu/PryorGallery for additional information.
Photo Caption: "Virgin of the Grapes."
Columbia State is a two-year college, serving a nine-county area in southern Middle Tennessee with locations in Columbia, Franklin, Lawrenceburg, Lewisburg and Clifton. As Tennessee's first community college, Columbia State is committed to increasing access and enhancing diversity at all five campuses. Columbia State is a member of the Tennessee Board of Regents, one of the largest higher education systems in the nation. For more information, please visit www.columbiastate.edu.
Tennessee's Community Colleges is a system of 13 colleges offering a high-quality, affordable, convenient and personal education to prepare students to achieve their educational and career goals in two years or less. We offer associate degree and certificate programs, workforce development programs and transfer pathways to four-year degrees. For more information, please visit us online at tncommunitycolleges.org.
# # #