Apr 10, 2014
Performance Series Closes with "Shrek The Musical"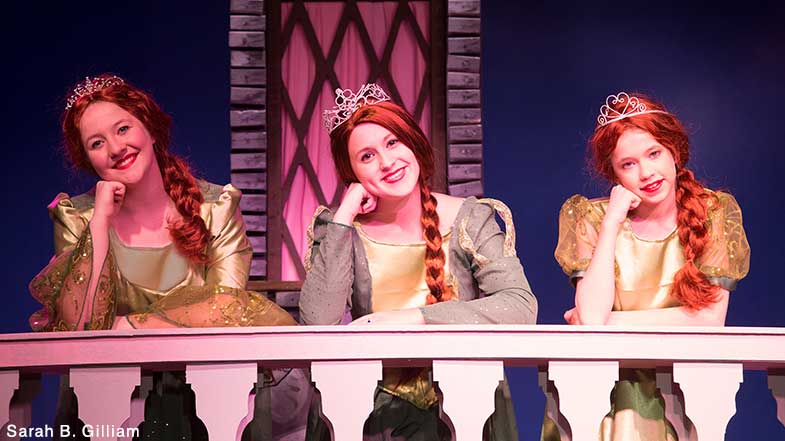 Photo Caption:
There's a surprise in store for Princess Fiona as she awaits a prince to come to her rescue. Pictured (left to right): Bethanie Lyon as Teen Princess Fiona, Angie Manning as grown up Princess Fiona and Aleyah Lyon as young Princess Fiona. Photo credit: Sarah B. Gilliam.
(COLUMBIA, Tenn. - April 10, 2014) - - - On April 24, the First Farmers Performance Series closes its 2013-2014 season in the Cherry Theater with "Shrek The Musical," featuring the Columbia State Community College commercial entertainment program's spring musical.
"'Shrek The Musical' is a great way to close a successful season," said Dr. Janet F. Smith, Columbia State president. "The Columbia State commercial entertainment program always delivers a fun, entertaining program for the capstone performance."
In a faraway kingdom turned upside-down, things get ugly when an unseemly ogre - not a handsome prince - shows up to rescue a feisty princess. Throw in a donkey who won't shut up, a bad guy with a short temper, attitude and more than a dozen other fairly misfits, and you've got the kind of mess that calls for a real hero. Luckily, there's one on hand, and his name is Shrek.
A limited number of tickets are still available for the 7 p.m. show and are $15 for adults and $10 for students. To charge tickets by phone using a major credit card, call (931) 540-2879. Tickets can also be purchased at the Columbia State ticket office in the Pryor Administration building, room 108, Monday through Friday, 8 a.m. - 4 p.m.
If tickets are still available the night of the performance, they can be purchased one hour prior to the show from the box office located in the Waymon L. Hickman building lobby.
The Cherry Theater is in the Hickman building on the Columbia campus, located at 1665 Hampshire Pike. For more information, visit www.columbiastate.edu/performance-series.
"Shrek The Musical" is presented through special arrangement with Music Theatre International (MTI). All authorized performance materials are also supplied by MTI. 421 West 54th Street, New York, NY 10019. Phone: (212) 541-4684 Fax: 212-397-4684 www.MTIShows.com.
Columbia State is a two-year college, serving a nine-county area in southern Middle Tennessee with locations in Columbia, Franklin, Lawrenceburg, Lewisburg and Clifton. As Tennessee's first community college, Columbia State is committed to increasing access and enhancing diversity at all five campuses. Columbia State is a member of the Tennessee Board of Regents, one of the largest higher education systems in the nation. For more information, please visit www.columbiastate.edu.
Tennessee's Community Colleges is a system of 13 colleges offering a high-quality, affordable, convenient and personal education to prepare students to achieve their educational and career goals in two years or less. We offer associate degree and certificate programs, workforce development programs and transfer pathways to four-year degrees. For more information, please visit us online at tncommunitycolleges.org.
# # #