Dec 30, 2014
Columbia State Celebrates Fall 2013 Graduates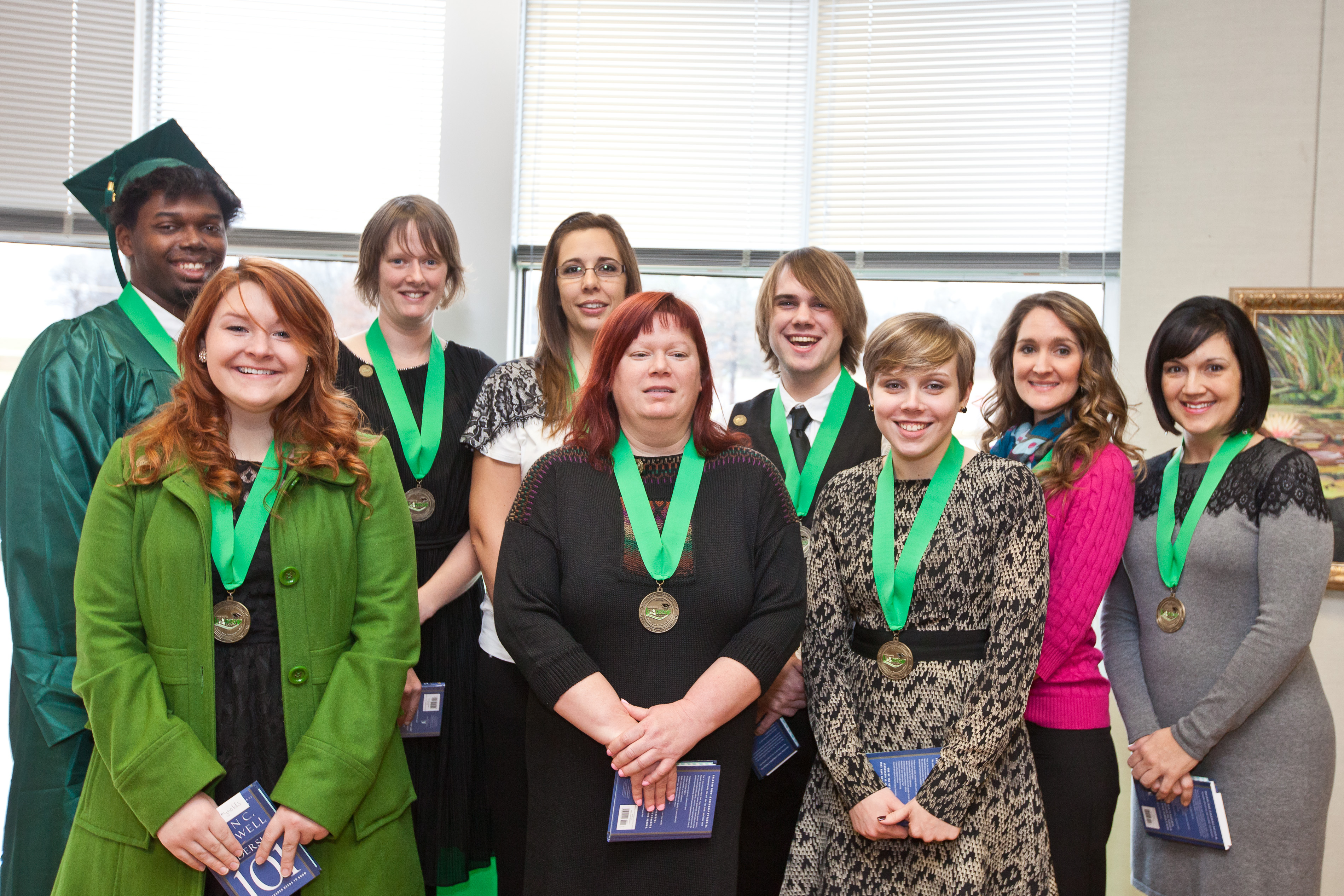 Photo Caption:
The President's Leadership Society is a free training program focused on helping students develop and apply their unique leadership skills. Students must attend a leadership retreat or orientation and complete 12 approved activities or workshops prior to graduation. These include self-management and goal setting, civic and campus life events, cultural opportunities and community service. Front row, left to right: Jessica Reynolds, Columbia; Dorothy Newcome, Santa Fe; and Sarah Choate, Columbia. Back row, left to right: Quintin Watkins, Chapel Hill; Colleen Conway, Nashville; Jennifer Evans, Columbia; Max Sechrest, Lewisburg; Leslie Pardue, Spring Hill; and Jeanne Leigh, Williamsport. Photo credit: Sarah B. Gilliam.


(COLUMBIA, Tenn. - Dec. 30, 2013) - - -
Nearly 150 Columbia State Community College degree and certificate candidates walked across the stage during the 2013 fall commencement ceremony held in the W.J. "Billy" Webster Athletic Center Saturday, Dec. 14.
"We are proud of our graduates and what they've accomplished," said Dr. Janet F. Smith, Columbia State president. "Columbia State continues to move forward to find new ways to work with the community and with its students to provide success and completion so that individuals may pursue their life goal."
Guest speaker Emily J. Reynolds, vice chair of the Tennessee Board of Regents, delivered the commencement address to the graduates. As she shared her experiences as the 31st secretary of the U.S. Senate, she explained that she felt honored to serve in a position that dated back to 1789.
"It's a great reminder that we are so fortunate to live in the greatest nation on the face of the earth, and you are our leaders," Reynolds said. "I tell you this to encourage you, and in fact implore you to be as involved as you can in our government, for our nation needs talented leaders like you. Your participation and caring can make all the difference in the world."
Prior to the commencement ceremony, Smith honored nine President's Leadership Society graduates, recognizing them for their participation and commitment to learning, being involved and helping others.
"The President's Leadership Society began in spring 2011 and was started based on the belief that leadership is inherent to our lives and that all individuals can have a leadership role," Smith said. "Every student has the opportunity to join. I couldn't be happier, and I know they're going to do great things moving forward."
Following commencement, many Columbia State graduates will head directly into the workforce. In addition, more than half of this fall's graduates will continue their education when they transfer to public and private colleges and universities in the spring.
There are more than 300 degree and certificate candidates for fall 2013 that include students from summer and fall. Columbia State degree candidates include residents of Giles, Hickman, Lawrence, Lewis, Marshall, Maury, Perry, Williamson and Wayne Counties, as well as Bedford, Benton, Cheatham, Davidson, Dickson, Lincoln, Robertson, Rutherford, Shelby, Sumner Counties and Lauderdale County in Ala.


Photo Caption: Colleen Conway, Columbia State Community College nursing graduate, was president of Phi Theta Kappa's Beta Kappa Theta chapter and vice president of the Student Government Association, as well as a member of the President's Leadership Society and the Student Nursing Association. The Nashville resident is a graduate of Hillsboro High School. Her plans include transferring to Vanderbilt University in August 2014, where she hopes to complete her master of science in nursing through a bridge program designed for nursing students who have completed their associate of science degree. Her goal is to become a geriatric nurse practitioner.


Photo Caption: Max Sechrest earned his Associate of Science degree in mass communications. The Lewisburg resident was a member of the President's Leadership Society and the assistant media technician for Columbia State's media services department. Sechrest could be found around campus helping with video projects and setting up lights and sound for events. His first love is video production, and he plans to return to Columbia State in fall 2014 to begin the film crew technology program at the Williamson County campus. Sechrest expressed his love for the faculty and staff at Columbia State, stating that he felt they truly cared. "I love that Columbia State encourages students to get involved and everyone to come together," Sechrest said. "It's the faculty that want their students to succeed that makes this school great."


Photo Caption: Columbia resident Sarah Choate earned an Associate of Science degree with a concentration in early childhood education. While at Columbia State, she was a President's Leadership Society member, a member of Phi Theta Kappa, and a student worker for admissions. "I love the community at Columbia State. It was easy to get involved and make lots of friends," Choate said. Her plans include transferring to Martin Methodist University in spring 2014, where she will pursue a Bachelor of Arts degree in elementary education. Her goal is to be a kindergarten teacher.


Photo Caption: Nursing graduate and Marshall County resident Sylvia Romero came to Tennessee from El Salvador when she was only 10 years old. Today, she holds an Associate of Applied Science degree from Columbia State. Romero explained that while the nursing program is challenging, she had a lot of support from classmates who became close friends, as well as great instructors who "teach the best of everything they know." She currently works part-time at the Celebration Family Care Clinic in Lewisburg where she also acts as a Spanish translator. Her future plans include completing the RN to BSN bridge program through Middle Tennessee State University so she can learn more and broaden her experience. "Columbia State is a great community college that is affordable," Romero said. "It only took me two years. I'm done and have a degree already. It feels good."
Columbia State is a two-year college, serving a nine-county area in southern Middle Tennessee with locations in Columbia, Franklin, Lawrenceburg, Lewisburg and Clifton. As Tennessee's first community college, Columbia State is committed to increasing access and enhancing diversity at all five campuses. Columbia State is a member of the Tennessee Board of Regents, the sixth largest higher education system in the nation. For more information, please visit www.columbiastate.edu.
Tennessee's Community Colleges is a system of 13 colleges offering a high-quality, affordable, convenient and personal education to prepare students to achieve their educational and career goals in two years or less. We offer associate degree and certificate programs, workforce development programs and transfer pathways to four-year degrees. For more information, please visit us online at tncommunitycolleges.org.

# # #