Nov 25, 2013
Commercial Entertainment To Present "Once Upon A Christmas" At Williamson County Campus
Tickets On Sale Now!
(COLUMBIA, Tenn. - Nov. 22, 2013)
- - - The Columbia State Community College commercial entertainment program will present its 19th annual holiday musical, "Once Upon A Christmas," Dec. 6 - 7 at the Williamson County Campus.
Peek into a world of imagination when the White Rabbit and other classic storybook characters come to life in this year's commercial entertainment holiday production. Meeting in the woodlands, the characters find themselves sharing stories of how each celebrates the holidays as they join together for fun and laughter at a Wonderland tea party.
"This year's production features storybook favorites like Snow White, Cinderella and Alice," said Cathy Hudnall, director and assistant professor of the commercial entertainment program. "We've got a great show this year, and it will be fun for all ages."
Friday's performance begins at 7:30 p.m., and the lobby doors open at 6:30 p.m. Tickets for this event are $8 for adults and $5 for children ages 3 - 10. Children can enjoy preshow activities in the lobby before the performance, along with photo opportunities with the cast members after the show.
Saturday's Dessert Theater begins at 7:30 p.m. The lobby doors open at 6 p.m., and dessert service begins at 6:45 p.m. Tickets for this event are $12 for adults and $8 for children ages 3 - 10. Limited table seating is available for this performance, so advance purchase is recommended.
To purchase tickets, call (615) 790-4400. Hudnall encourages everyone to purchase their tickets in advance, especially for Dessert Theater, which features Freddie Smith's Gourmet Desserts and a beverage. All children are encouraged to dress up as their favorite storybook character and bring a pillow so they can sit up front to watch the show.
Columbia State of Williamson County is located at 104 Claude Yates Drive next to Franklin High School off Hillsboro Road in Franklin. Additional information about the commercial entertainment program can be found at
www.ColumbiaState.edu/CEN
.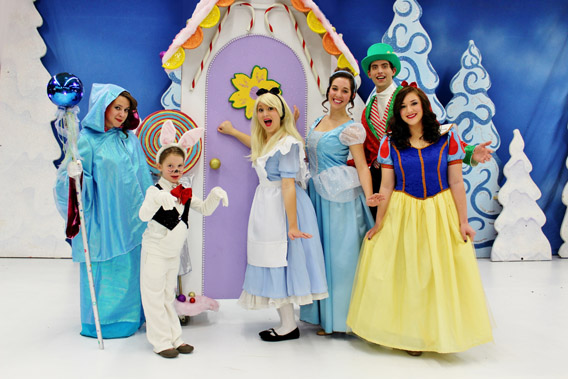 Photo Caption:
"Once Upon A Christmas" features Franklin resident Annalaura Lyon as the White Rabbit, along with a cast of commercial entertainment students. Pictured (left to right): Catherine Glidwell (Murfreesboro), Annalaura Lyon, Angie Manning (Columbia), Sarah Barberi (Columbia), Mark Tutaj (Franklin) and Madeline Tallman (Franklin).
Columbia State is a two-year college, serving a nine-county area in southern Middle Tennessee with locations in Columbia, Franklin, Lawrenceburg, Lewisburg and Clifton. As Tennessee's first community college, Columbia State is committed to increasing access and enhancing diversity at all five campuses. Columbia State is a member of the Tennessee Board of Regents, the sixth largest higher education system in the nation. For more information, please visit
www.ColumbiaState.edu
.