May 31, 2013
Cen Spring Musical Closes 2012-2013 Performance Series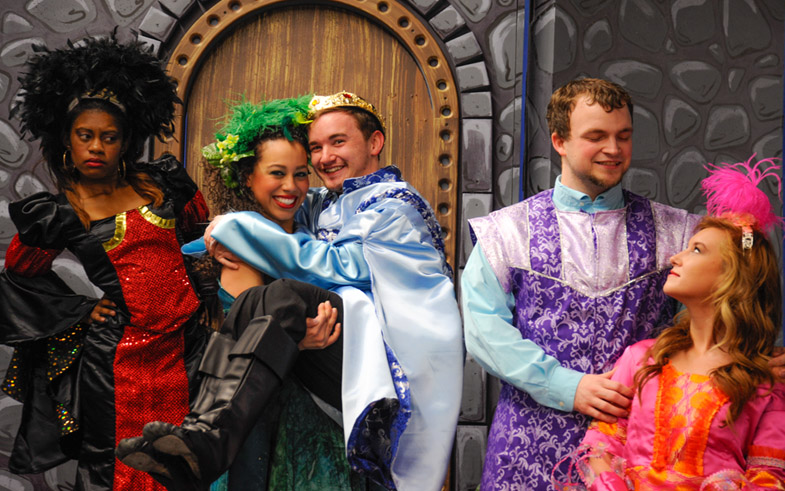 Photo Caption: Moat-swimming princesses, fearless princes and side-splitting shenanigans will have audiences looking at fairy tales in a whole new light. "Once Upon a Mattress" features commercial entertainment students Maureen Maltez as Princess Winnifred; Luke Collins as Prince Dauntless; Greg Richards as Sir Harry; Alisha Hegwood as Queen Aggravain; and Taylor Beasley as Lady Larken.
Tickets Still Available
(COLUMBIA, Tenn. - April 12, 2013) - - - Columbia State Community College's First Farmers Performance Series closes its 11th season with the commercial entertainment program's spring musical, "Once Upon a Mattress," a classic tale of royal courtship with a twist. The kid-friendly performance of the Tony Award-winning Broadway musical will be in the Cherry Theater on Thursday, April 25 at 7 p.m.
"The student show is a wonderful way to cap off this year's First Farmers Performance Series," said Molly Cochran, director of alumni and community relations and events. "We have exceptionally talented students in our commercial entertainment program, and "Once Upon a Mattress" will be a fantastic opportunity for our community to experience everything they have to offer."
Sir Harry and Lady Larkin are in a rush to get to the altar, but Queen Aggravain has declared that there are to be no marriages until her son, Prince Dauntless, marries a suitable princess. When the queen begins to sabotage all potential princesses, Harry makes haste to bring Princess Winnifred to meet Dauntless. Will the queen get rid of her, too?
Tickets are still available and are $15 for adults and $10 for students. Advance tickets can be charged by phone with a major credit card at (931) 540-2879, or they can be picked up at the Columbia State ticket office in room 108 of the Pryor administration building, Monday through Friday between 9 a.m. and 3 p.m.
The Cherry Theater is in the Waymon L. Hickman building on the Columbia campus. The box office in Hickman 100A will open one hour prior to each performance. For more information about the First Farmers Performance Series, visit www.columbiastate.edu/performance-series.
"Once Upon a Mattress" is based on Hans Christian Anderson's, "The Princess and the Pea." The Broadway musical is a Rodgers & Hammerstein production, with music by Mary Rodgers, lyrics by Marshall Barer and book by Jay Thompson, Dean Fuller and Marshall Barer. "Once Upon a Mattress" is presented through special arrangement with R & H Theatricals, www.rnh.com.
Columbia State is a two-year college, serving a nine-county area in southern Middle Tennessee with locations in Columbia, Franklin, Lawrenceburg, Lewisburg and Clifton. As Tennessee's first community college, Columbia State is committed to increasing access and enhancing diversity at all five campuses. Columbia State is a member of the Tennessee Board of Regents, the sixth largest higher education system in the nation. For more information, please visit
www.columbiastate.edu
.