Jul 18, 2018
Columbia State Starts New Undergrad Science Research Program
(COLUMBIA, Tenn. - July 18, 2018) - - - The Columbia State Community College undergraduate research program has partnered with the Howard Hughes Medical Institute Science Education Alliance to participate in the Phage Hunters Advancing Genomics and Evolutionary Science undergraduate program. Columbia State will offer the first SEA-PHAGES course Fall 2018.
SEA-PHAGES is a nationwide program that involves more than 100 universities and colleges across the country with Columbia State being one out of only 12 community college participants in the country. Approximately 5,000 students participate in the program each year.
The discovery and course-based, research experience is aimed at undergraduates who are new to college-level science and have had little or no research skills.
The course is divided into two consecutive components. The first is a phage discovery "wet lab" component, during which students isolate bacteriophages (viruses that are specific to bacterial hosts) from local environmental samples and extract DNA for further analysis. In the second semester, students will employ bioinformatics methods to annotate their phage's genome sequences. After quality control checks, the students' annotated sequences will be submitted to the National Center for Biotechnology Information database.
The SEA-PHAGES course will be taught by Dr. Elvira Eivazova, Columbia State assistant professor of biology. Eivazova has been an advocate for implementing collaborative undergraduate research at Columbia State. For the 2017-2018 year, Eivazova introduced an undergraduate biology research course that engaged 40 students. She observed an increase in overall appreciation of the scientific process and an increase in the level of engagement among students.
"The undergraduate research experience represents a great opportunity for students to effectively learn science in a non-traditional setting," Eivazova said. "It makes the STEM experience more engaging, stimulating and less intimidating, particularly when it comes to non-science majors."
For biology majors, the research experience at a community college creates a unique early start opportunity for learning scientific methodology via independent project-based activities. This prepares them well for a smooth transition towards their bachelor's degrees and beyond, making them competitive candidates during four-year school application processes.
Recently, one of Eivazova's students, Ximena Leon, attended the HHMI SEA-PHAGES collaborative pre-course workshop at the University of Maryland, Baltimore County where she purified bacteriophages, characterized them using electron microscopy and isolated genomic DNA for sequencing.
"The HHMI Sea-Phages workshop was absolutely the best experience I have ever had," Leon said. "I learned so much in just a week and I am very excited to bring back all the information to Columbia State. I am so thankful to have had this incredible opportunity."
Those interested in learning more about a degree in biology at Columbia State should visit www.ColumbiaState.edu/Biology.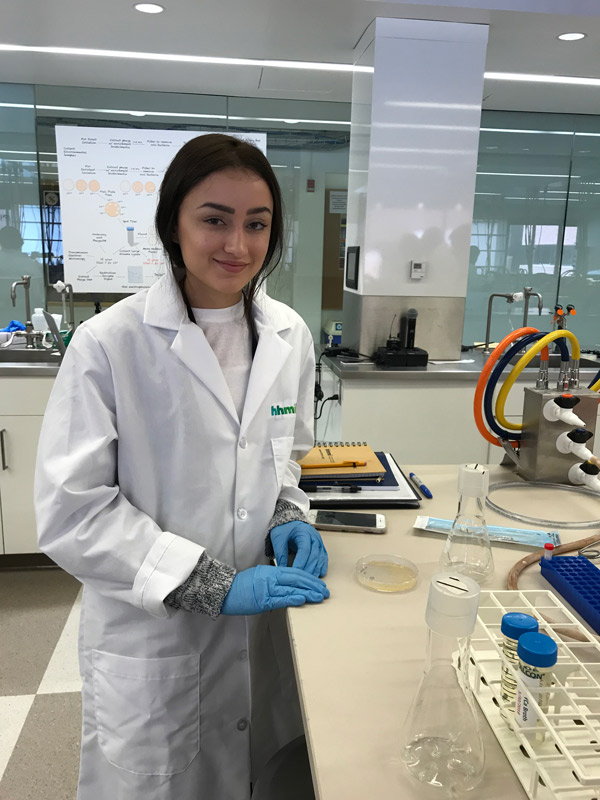 Photo Caption: Ximena Leon, Columbia State student and Lewisburg native.