Imagine carrying a 200-pound patient on a stretcher through creeks and trenches, over walls and under barbed wire. Twelve hours of combat medical lanes covering 8 to 12 miles. You must navigate from point to point and treat your patients. Everything from head and stomach injuries, to nuclear and biological chemical warfare. Treat them all. Load them up on helicopters and ambulances. Call in triages. After all of this, conduct a 12-mile road march back in a three-hour time frame - all with 50 pounds of gear on your back. This is what is known in the Army as the Expert Field Medical Badge Competition. A crowning achievement to the military medical community and one that only 18 percent of Army medical personnel can claim to have accomplished. A test of brains and brawn - of skill and will. One that no solo female had ever completed. That is, until Ginny Massey-Holt.


To qualify for the competition, you have to earn the Expert Field Medical badge. On average, only 17 percent of those who attempt the qualification course pass. The competition is traditionally comprised of two-person teams; between 1996 and 2000 the competition allowed solo competitors.
 "I was the first female to ever finish that competition solo and not drop out," Massey-Holt said. "I placed third the first year I did it in 1996 and second the second year I did it in 1997."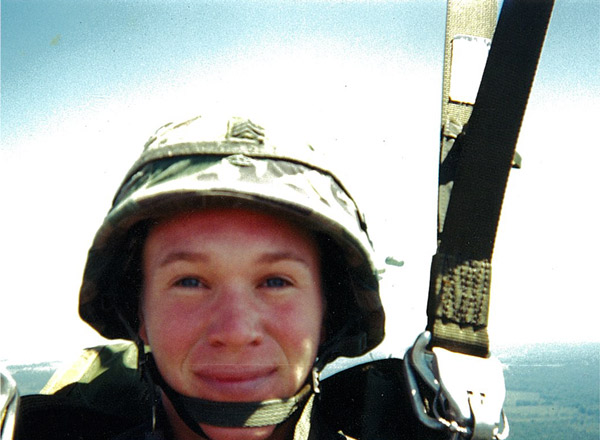 The Army medic, turned nursing professor has had quite the interesting path to Columbia State. Massey-Holt was three years into her college degree at Missouri South State University when she chose to join the Army. Her ROTC program was closing due to military cutbacks and she chose to go into active duty.
"When I got out, I went to LPN school at the Tennessee Technology Center, Pulaski," Massey-Holt said.  "After LPN school, I came to Columbia State to finish prerequisites, using my VA benefits, before enrolling in Excelsior College to finish my associate degree in nursing online. The program was designed for people who had already been paramedics, LPNs or military medics. So, that particular associate degree nursing program was for a small closed population that had clinical skills already. Two months after finishing my associate's degree I started at Vanderbilt in the bridge to master's for the Family Nurse Practitioner."
No matter how far away from teaching Massey-Holt ventured, the New Jersey native was always drawn back to it.
"I missed the teaching aspect," Massey-Holt said. "I used to work at the Air Assault School at Ft. Campbell, KY teaching 200 soldiers how to rappel out of helicopters. So I started to precept students in my clinic, but it wasn't enough.  I mean, you can precept 3 to 5 students in a year, or you can make the transition to the classroom and you can hope to positively impact 80 to 100 students in a year."


During the precept process, students have the opportunity to work with a nurse practitioner to learn to provide care in an outpatient setting.
In addition to lectures, the Nursing IV professor is involved in many aspects of Columbia State. A member of this academic year's advising task force, Massey-Holt is also on the nursing curriculum committee as well as the QEP committee for SACS. Outside of the workday, Massey-Holt enjoys the outdoors with her family, or watching the "Mother of Dragons" on Game of Thrones.
"I really don't even know how to describe Daenerys Targaryen… she's fearless, and I'm not always fearless but I aspire to be fearless and bold," said Massey-Holt. "She is a rabble rouser. I like her."
Even with all her accomplishments and her busy schedule, Massey-Holt finds joy in her calling.
"Every semester, watching those students' faces at pinning, to just have had the privilege of being a small part of the journey of them getting there is special," said Massey-Holt. "I'm kind of a baby and I usually cry at almost every single pinning. Students really touch your life in a way that makes you try to figure out how to step up to the plate a little bit better the next time for the next group. They really reinforce why I am here. Why I get up and come to work every day."