Feb 02, 2018
Columbia State to host Miles for Maddie, Lungs of Steel 5k
Columbia State Community College's Respiratory Care Club, in collaboration with Maury County Parks and Recreation, will host their 10th Annual Lungs of Steel 5k Run/Walk on March 10. A portion of the proceeds will be donated to benefit Maddie Wright, a 9-year-old Cystic Fibrosis patient.
The 5k run/walk will take place at Maury County Park in Columbia.
The pre-registration deadline is Feb. 28. It is $25 to pre-register. Pre-registration for kids 12 and under is $10 each. Early registrants will receive a T-shirt. Race-day registration begins at 8 a.m. and is $35 for the 5k run/walk, $15 for kids 12 and under. The race will begin at 9 a.m.
"For the last several years, the respiratory care students have donated a portion of the run proceeds to a charity," said R. David Johnson, program director and associate professor of respiratory care at Columbia State. "This year, they will donate money to the Wright family. Students first met 9-year-old Maddie and her mom, Leanne, when she was a patient in Vanderbilt Children's Hospital. Cystic Fibrosis is a chronic lung disease that causes the lungs to produce enormous amounts of very thick mucus. Maddie must do breathing therapies every day and be routinely admitted into the hospital to keep her lungs in good working order."
Maddie's parents said that she typically gets admitted to the hospital four times a year for lung exacerbation and/or lung infections.
The Respiratory Care Club also uses this event to raise money to attend the respiratory care state convention.
"As a part of their training, respiratory care students attend the state convention each year," Johnson said. "It is a great place to see the larger profession, hear expert lecturers, see state-of-the-art equipment and make employment contacts. The proceeds from this run help with expenses to attend the convention."
The race is open to the public and the registration form is available online at www.ColumbiaState.edu/LungsOfSteel. For additional information, contact Jamie Fanning at 615.310.8074 or by email at jfanning1@ColumbiaState.edu.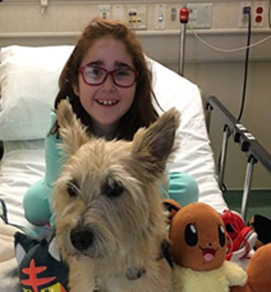 Photo Caption:
Maddie Wright.