Sep 28, 2017
Mechatronics Open House showcases student success
(COLUMBIA, Tenn. - Sept. 28, 2017) - - - Spring Hill High School and Columbia State Community College recently hosted an open house to showcase their successful partnership that provides mechatronics-based dual-credit courses.
Through the program, students have the opportunity to earn their high school diploma, a technical certificate and an Associate of Applied Science degree in Engineering Systems Technology at the same time. This is the first year and 130 students are already enrolled between Spring Hill High School, Columbia Central High School and Mount Pleasant High School.
"We went through training that was key to getting this program started," said Robert Fortel, Spring Hill High School mechatronics teacher. "I am excited that these kids are getting an opportunity to leave high school with more than just a high school diploma. They have the opportunity to walk out of these doors after graduation and get a job."
Representatives from Spring Hill and Columbia State welcomed guests to the open house and explained the vision of the program and collaboration. Dr. Dearl Lampley, Columbia State dean of the Science, Technology and Mathematics Division, told the group about the demand for these skilled workers and thanked Maury County Public Schools, the Tennessee Higher Education Commission and South Central Workforce Development for working so diligently to put the program into motion since its inception.
"The partnerships are what made this work," said Dr. Janet F. Smith, Columbia State president. "Everyone came together because the students need this opportunity for success and growth - this helps us meet the needs of the industry and the needs of the students."
Tina McKeithan, APCOM human resources manager, explained that it is hard to find employable workers with this skill set.
"We have three or four openings in our maintenance department because this is a very hard skill set for us to locate," McKeithan said. "We are very excited to see where this leads us."
A panel of mechatronics students discussed the program, the skills that they have obtained, what they enjoy the most about the program and other details about what they have been learning.
Alejandra Guerrero, Spring Hill High School senior, mentioned that there are very few girls in the mechatronics classes, and that there are a lot of stereotypes that accompany the class.
"People think that you are learning how to work on a line," Guerrero said. "It is much more than that. I'm learning how to build circuits, how to use different equipment and different electrical systems. It is challenging."
Following the student panel, the floor opened up for a question and answer portion with the students. The students then did a hands-on demonstration with the mechatronics equipment.
Columbia State's EST program is designed to prepare graduates for many different careers related to manufacturing with an emphasis on technology, critical thinking and problem solving. Students take courses in the basic fundamentals of engineering technology and move to very advanced applications including robotics. To learn more about the EST program, visit www.ColumbiaState.edu/EST or contact Mehran Mostajir at 931.540.2711 or mmostajir@ColumbiaState.edu.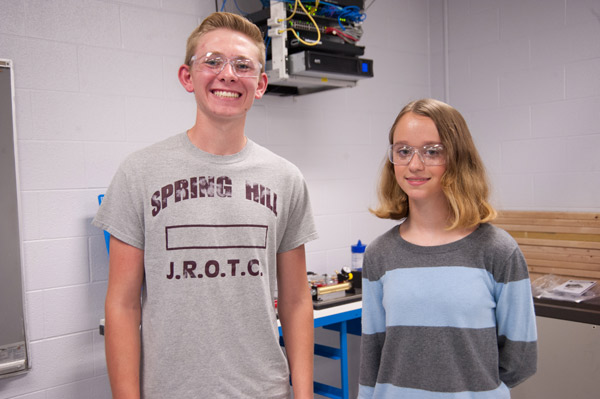 Photo Caption: Spring Hill High School mechatronics students. Evan Fleenor, sophomore, and Rachel England, freshman.
Photo Caption: Spring Hill High School mechatronics students. (Pictured, left to right) Dakotah Daniels, senior; Bryce Butler, sophomore; and Alejandra Guerrero, senior talk to the community about the mechatronics program.

Photo Caption: Dr. Dearl Lampley, Columbia State dean of the Science, Technology and Mathematics Division, talks about the mechatronics program to community, workforce and industry leaders.
# # #