May 03, 2017
Diane Davis Receives Harold Love Award
(COLUMBIA, Tenn. - May 3, 2017) - - - Columbia State Community College's Diane Davis was recently chosen as the recipient of the 2017 Harold Love Outstanding Community Service Award.
"I know of no one more deserving of this award than Ms. Davis," said Dr. Janet F. Smith, Columbia State president. "She puts others before herself. She is always at the front of the volunteer line. The example she sets in her work with students, colleagues, community and her church is a model for each of us to follow in helping our fellow man."
Davis, secretary for the Office of Access and Diversity, has been with Columbia State since 2012. In addition, she serves as a board member of the Legal Aid Society of the Cumberland's; volunteers at Maury Regional Medical Center; and has served her church, Hopewell AME, as treasurer, secretary, steward, trustee, Sunday school superintendent and young people's director. Davis is a member of Leadership Maury and the African American Heritage Society of Maury County, serves on the Community Advisory Board and participates in several other community activities.
Davis is responsible for providing support for the Office of Access and Diversity - she keeps records and documents for the department, participates in recruitment and retention activities and tracks partnership events and activities.
Davis, a Maury County native, earned her associate degree in liberal arts from Columbia State and a bachelor's in management and human relations from Trevecca Nazarene University. In 2014, Davis was named Who's Who Among Students In American Universities and Colleges at Trevecca.
The Harold Love Outstanding Community Service Award was created by Harold Love, a member of the Tennessee House of Representatives from 1968-1991. Love was instrumental in setting up the award which is presented to five public or private two or four-year college or university students or faculty each year. The award recognizes public service, the nominee's effectiveness, documentation of public service and a letter of recommendation from the college president.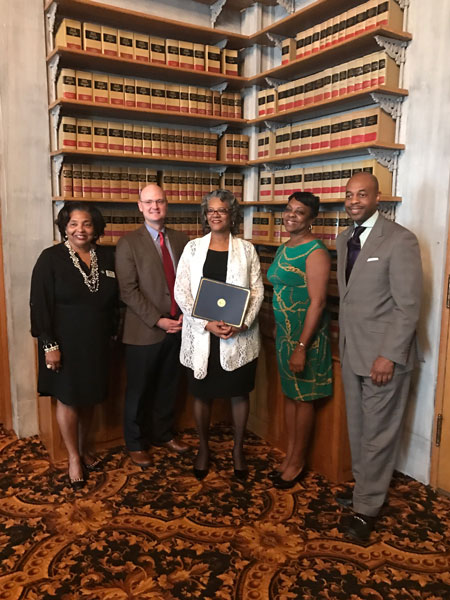 Photo Caption: (Pictured left to right): Dr. Christa Martin, Columbia State assistant to the president for access and diversity; Mike Krause, Tennessee Higher Education Commission executive director; Diane Davis, Columbia secretary for the Office of Access and Diversity and recipient of the 2017 Harold Love Award; Crystal Love, Daughter of Harold Love, Sr.; and Harold Love, Jr., Tennessee House of Representatives, District 58.
Columbia State is a two-year college, serving a nine-county area in southern Middle Tennessee with locations in Columbia, Franklin, Lawrenceburg, Lewisburg and Clifton. As Tennessee's first community college, Columbia State is committed to increasing access and enhancing diversity at all five campuses. Columbia State is a member of the Tennessee Board of Regents, one of the largest higher education systems in the nation. For more information, please visit www.ColumbiaState.edu.
Tennessee's Community Colleges is a system of 13 colleges offering a high-quality, affordable, convenient and personal education to prepare students to achieve their educational and career goals in two years or less. We offer associate degree and certificate programs, workforce development programs and transfer pathways to four-year degrees. For more information, please visit us online at tncommunitycolleges.org.
# # #