Nov 18, 2015
Freda Pillow Receives Federal Career Certifications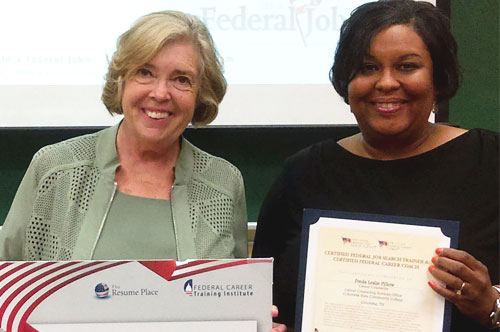 Photo caption: Pictured left to right: Kathryn Troutman, president of Federal Career Training Institute/The Resume Place, Inc. and Freda Leslie Pillow, Columbia State career counselor.
Columbia State Career Counselor Freda Leslie Pillow recently received national credentials as a licensed Certified Federal Job Search Trainer and Certified Federal Career Coach.
Pillow was awarded the credentials from the Federal Career Training Institute Certification Program at Loyola University Maryland in Baltimore. Pillow is currently the only CFJST/CFCC license holder in the state of Tennessee.
The Ten Steps to a Federal Job Certification Program is the groundbreaking training program that provides the industry-standard certifications, CFJST and CFCC, which were established by the Federal Career Training Institute, the training division of The Resume Place, Inc. The certifications are the first and most respected credentials in federal job search training.
Earning and maintaining these certifications demonstrates a foundation of knowledge and skills to effectively coach and train jobseekers to land high quality U.S. government careers.