Dec 04, 2014
Lyon Sisters Prepare for Careers in Entertainment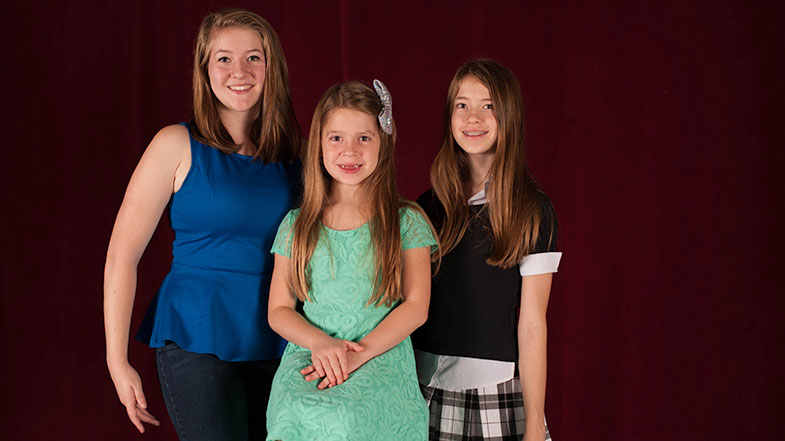 Photo Caption: Pictured, left to right: Bethanie Lyon, Annalaura Lyon and Aleyah Lyon.
(COLUMBIA, Tenn. - Dec. 4, 2014) - - - Like many other kids in Middle Tennessee, Franklin residents Bethanie, Aleyah and Annalaura Lyon are homeschooled. These spirited sisters have rigorous schedules and are already on the fast track to defining their careers.
A typical day for Aleyah, 13, and Annalaura, 6, includes school lessons and homework until 3:30 p.m., Monday through Thursday, and then it's off to dance lessons every night. Fridays are reserved for free time that they spend working on arts and crafts.
Bethanie, 17, has a busier schedule than her younger sisters. In addition to her homeschooling, she is also enrolled in the commercial entertainment program at Columbia State Community College's Williamson Campus, where she's earning dual credits for high school and college. She's also dancing every night and teaching 4-year-olds how to dance.
Although they have been homeschooled since kindergarten, this dynamic sister trio began dancing at the Ann Carroll School of Dance when they were each just 2 years old. It was there that they met Laura Carroll, owner of the dance school and adjunct instructor for the commercial entertainment program at Columbia State.
"These girls are all really good performers, have a great work ethic, and are reliable," Carroll said. "I think what has helped them is that their parents recognized their creative abilities and homeschooling has allowed more time for that. That's been really beneficial for the girls because it allows them more time to facilitate those creative talents."
Carroll noted that the girls are all in dance companies, and they participate on competition teams.
"We also have a pre-professional program," Carroll said. "These girls do everything the competition teams do plus they come in on Saturdays where they have additional opportunities to perform."
Carroll explained that the two older girls are on the pre-professional program, and Annalaura is sure to follow.
"Students in the pre-professional track are preparing themselves to get headshots and learn more about becoming a professional," Carroll said. "People teach them master classes. They are on a different track, and they want to make a career of it."
It was Carroll who encouraged Bethanie to audition for the commercial entertainment program.
"I think the commercial entertainment program puts Bethanie in an excellent position," Carroll said. "I think very few people graduate from high school with the knowledge to actually go out there-just for something as simple as knowing where to look for auditions-not just how to audition but where to start."
In addition to dance and acting classes, Bethanie is also taking college courses like stagecraft, digital audio recording and audition and showcase techniques in order to prepare her for an entertainment career. She said she feels at home on the stage and anticipates going to work immediately after finishing her technical certificate, and she hopes to make it to New York someday.
"I've never really had an interest in movies or television," Bethanie explained. "I feel like I am more of a stage performer. I don't know why but I just like being in the moment - like you have one shot to do it, and you can't mess up."
The eldest Lyon sister pointed out that she really wants to work for Disney, so that will be the first place she applies after she graduates. Her dream roles include Princess Belle in "Beauty and the Beast," Casey in "A Chorus Line" or the white cat, Victoria, in "Cats."
Aleyah is the shy one of the group, as well as the artist of the three. In addition to dancing, she likes to draw anime characters, use her computer to create art, and make movies.
"Aleyah is more of an introvert and more thoughtful, but when she dances, she's not shy," Carroll said. "I work with her to help her overcome that shyness."
Annalaura wants to follow in her oldest sister's footsteps and be a performer. When she doesn't have dance, school or homework, she plays the piano and makes crafts.
"I wish you could see Annalaura in her jazz costume," Carroll said. "She really brings it. She has the facial expressions and so much energy."
Carroll expressed her admiration for how the girls' parents nurture each one individually and how supportive they are of the girls' career choice.
"They are an amazing family," Carroll said. "They are so open and they embrace it."
Cathy Hudnall, director of the commercial entertainment program, said she enjoys having Bethanie in her program. She also commented that it is a real joy to include Aleyah and Annalaura in the musical productions, and she can't wait for them to join the program in a few years.
"These girls are really talented, and they are all also learning to sing and develop their voices," Hudnall said. "The Commercial Entertainment program is a great stepping stone for these kids to turn their talents into a career."
All three sisters have performed in commercial entertainment productions at the Williamson Campus. Bethanie and Aleyah played the teen and young versions of Fiona in the spring production of "Shrek," and Annalaura played the White Rabbit in last year's holiday program, "Once Upon A Christmas."
In this year's holiday production, "Cindy's Magic Snow Globe," Annalaura plays the title character, Cindy, Bethanie is playing Princess Cindy and is part of the ensemble cast, and Aleyah created the artwork for use in the show's promotional materials.
"Cindy's Magic Snow Globe" runs Friday and Saturday, Dec. 5 - 6. Friday's Winter Theater begins at 7:30 p.m., and the lobby doors open at 6:30 p.m. Tickets are $8 for adults and $5 for children ages 3 - 10.
In celebration of the show's 20-year anniversary, a Saturday Matinée has been added to the performance schedule and begins at begins at 2 p.m., with lobby doors opening at 1 p.m. Tickets for the matinée are $7 for adults and $5 for children ages 3 - 10.
Saturday's Dessert Theater begins at 7:30 p.m. The lobby doors open at 6 p.m., and dessert service begins at 6:45 p.m. Tickets for this event are $12 for adults and $8 for children ages 3 - 10. Limited table seating is available for this performance.
To purchase tickets, call (615) 790-4400. Hudnall encourages everyone to purchase their tickets in advance, especially for Dessert Theater, which features Freddie Smith's Gourmet Desserts and a beverage. All children are encouraged to dress up as their favorite storybook character and bring a pillow so they can sit up front to watch the show.
Columbia State's Williamson Campus is located at 104 Claude Yates Drive next to Franklin High School off Hillsboro Road in Franklin. Additional information about the commercial entertainment program can be found at www.ColumbiaState.edu/CEN.
Columbia State is a two-year college, serving a nine-county area in southern Middle Tennessee with locations in Columbia, Franklin, Lawrenceburg, Lewisburg and Clifton. As Tennessee's first community college, Columbia State is committed to increasing access and enhancing diversity at all five campuses. Columbia State is a member of the Tennessee Board of Regents, one of the largest higher education systems in the nation. For more information, please visit www.columbiastate.edu.
Tennessee's Community Colleges is a system of 13 colleges offering a high-quality, affordable, convenient and personal education to prepare students to achieve their educational and career goals in two years or less. We offer associate degree and certificate programs, workforce development programs and transfer pathways to four-year degrees. For more information, please visit us online at tncommunitycolleges.org.
# # #