Nov 14, 2013
STEM GiRLS Event Draws More Than 300
(COLUMBIA, Tenn. - Nov. 13, 2013)
- - - Columbia State Community College held its inaugural "Science, Technology, Engineering and Mathematics Girls Really Love Science" event at the Columbia campus Oct. 26. STEM GiRLS was designed to teach middle school girls about the many opportunities and careers available in STEM fields.
More than 300 middle school girls were in attendance for the day-long event that featured educational and interactive hands-on workshops designed to engage and encourage the girls as they begin to think about their futures.
Dr. Janet F. Smith, Columbia State president, welcomed the girls with a "girl power" chant and encouraged them to start making goals that will help them prepare for college. Holding up her own cap and gown, Smith expressed to the girls that they can be and do anything.
"You, too, can wear one of these," Smith remarked. "It's never too early to plan. Continuing your education will open doors and provide you with a number of opportunities and choices. The possibilities are endless."
Keynote speaker Jillian Bellovary, Ph.D., shared her story with the crowd and discussed the lack of women in STEM field careers. Painting the picture for them, she explained that she has had only two female science professors in college. Furthermore, she noted that there have been only six Nobel Peace Prizes awarded to five women in either physics or chemistry, with Marie Curie winning one in each category.
Bellovary, postdoctoral fellow at Vanderbilt University, delivered a powerful message, encouraging girls to be themselves and do what they love.
"I tried chemistry and engineering before discovering astronomy," Bellovary explained. "I love science, and it took me a while to figure out what the best fit for me was. It may take you a while, but give yourself that time."
Glenn Hudson, Ph.D., event organizer and associate professor of mathematics, explained that the goal of the event was to create an atmosphere of learning, excitement and engagement for young females in the 6th - 8th grades. He credits his team of faculty, staff and volunteers with the success of the event.
"This event was a wonderful example of teamwork and pursuit of a common goal for the betterment of our college and more importantly, the citizens we serve," Hudson said. "The feedback from participants, as well as community members who attended has been positive."
Twenty-one planned fun and engaging activities were led by Columbia State instructors, volunteer students and external STEM professionals. Activities ranged from animal science, astronomy, biology, chemistry, computer science, engineering, industrial technology, math, physics, psychology and robotics.
Nearly 70 parents, teachers and other guests registered and participated in informative sessions designed to help them recognize and encourage a student's aptitude in STEM subjects. These sessions provided participants with techniques to keep girls on the path to success. Andrew Wright, instructor of mathematics, led the session and said that it was successful and impactful.
"For the adults, I think awareness is the key," Wright said. "The adult workshop was a vital component in emphasizing the importance of what we are trying to achieve here at Columbia State - teaching all students that success is possible and guiding them to make a difference in the world we live in."
The event was sponsored by General Motors Spring Hill Manufacturing, Parks Motor Sales and Lucas Chevrolet-Cadillac. Kristy Bergstrom, GM Spring Hill plant communications manager, said that when asked to sponsor the event, "we couldn't say yes fast enough." She explained that GM is committed to sponsoring educational programs and institutions that help nurture tomorrow's innovators and leaders.
"Our hope, young ladies, is that if you haven't already, today is the day you realize how smart, capable, unique and talented you are - you can apply this to any field that your heart desires," Bergstrom said.
Attendees included residents of Giles, Hickman, Lawrence, Lewis, Marshall, Maury, Perry, Wayne and Williamson Counties, as well as Dickson, Lincoln and Rutherford Counties.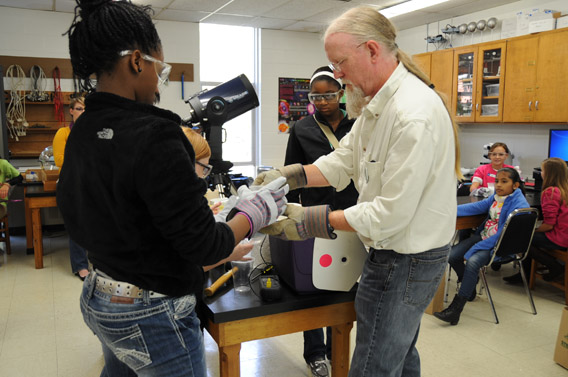 Photo Caption:
David Fawcett, associate professor of physics and mathematics, led middle school girls in an astronomy and physics workshop that demonstrated how a comet is formed.
Photo Caption :
Jan Seufert, co-owner of Higher Pursuits, led a group of girls in the leadership challenge, encouraging them to work together as a team to accomplish the goal of the exercise.
Photo Caption:
Glenn Hudson's pre-engineering students gave the girls a lesson in rocket science during the "educannon and rocketry" workshop.
Columbia State is a two-year college, serving a nine-county area in southern Middle Tennessee with locations in Columbia, Franklin, Lawrenceburg, Lewisburg and Clifton. As Tennessee's first community college, Columbia State is committed to increasing access and enhancing diversity at all five campuses. Columbia State is a member of the Tennessee Board of Regents, the sixth largest higher education system in the nation. For more information, please visit
www.ColumbiaState.edu
.